MCAA French Biotech Seminar 2022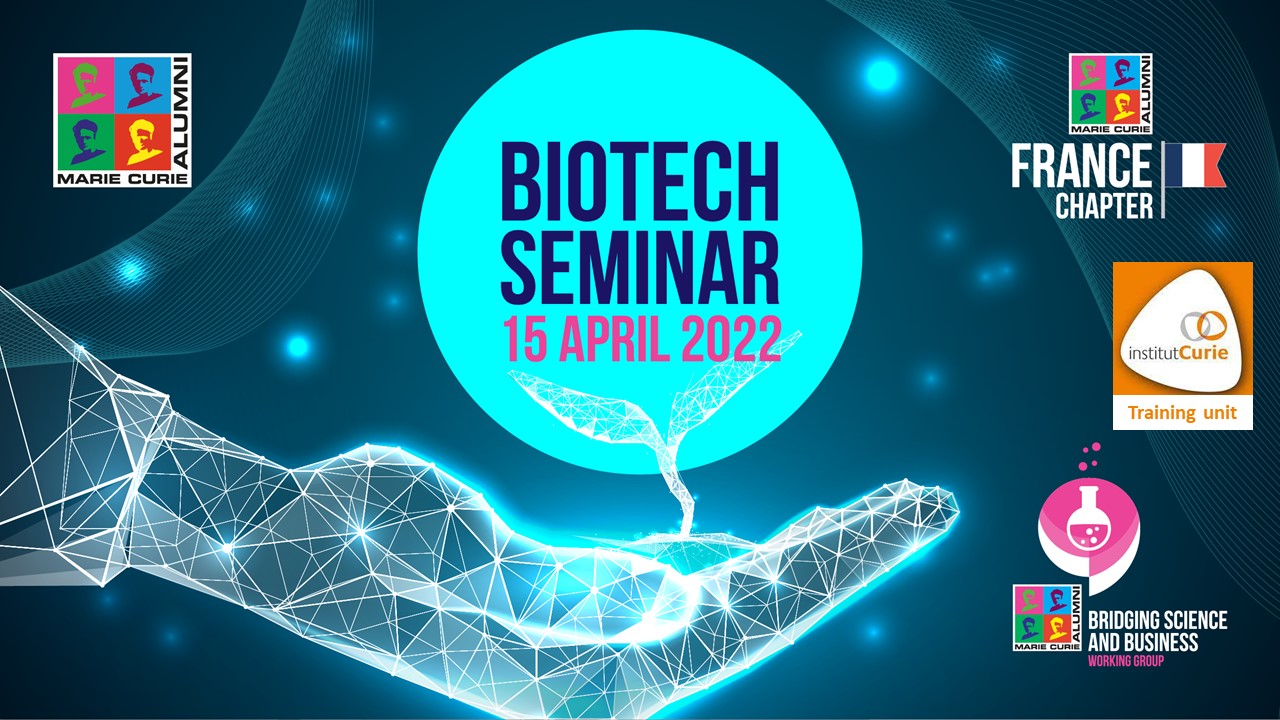 The MCAA France Chapter, the MCAA Bsb working group and the training unit of the Institut Curie are pleased to invite you to the 2022 MCAA Biotech Seminar, that will be held at the Institut Curie on Friday 15th April.
This seminar aims to gather young deserving Marie Curie fellow and actors of the world of start-up in biotech industry. We believe such event has the potential to raise awareness among young researchers for a meaningful career. A career for which scientific background and skills of researchers are key inputs.
Nowadays, more and more European and national organizations understand the potential of biotech companies and propose funding schemes to raise your translational research. If you are interested by the Biotech area and are wondering how your PhD could benefit to a career in this area, if you are thinking about joining or even starting your own start-up from your biomedical research, this seminar will provide key insights to you.
We managed to gather in one single day the main actors of the Biotech area in France (and Europe), as well as several former researcher that now have a successful career in the world of Biotech start-ups.  
Check out below the programme of the day
And register for free HERE
Event Start Date
15 Apr 2022
Event End Date
15 Apr 2022
Agenda
 

9h00 – 9h15

 

Welcoming coffee

9h15 – 9h30

Opening – presentation MCAA

9h30 – 11h

Morning session – Network and Resources

Chair : Thomas Bonnard and Martina Glavan

11h – 11h20

COFFEE BREAK

11h20 – 12h

Marie Curie – a brand of quality

Chair : Mariya Evtimova and Donata Iandolo

Murat Günes

 – 

Bridging Science to Business

Andrew Ho

 – 

Building interest and opportunity to Biotech world

12h – 13h

LUNCH

13h – 15h

Afternoon session –  Inspiring examples from our leaders

Chair: Piera Smeriglio and Murat Günes

15h – 15h30

COFFEE BREAK / SPEED DATING

15h30 – 17h30

Afternoon session –  Inspiring examples from our leaders

Chair: - Thomas Bonnard and Giulia Rizzo