MCAA North America Chapter - East Coast Spring Meeting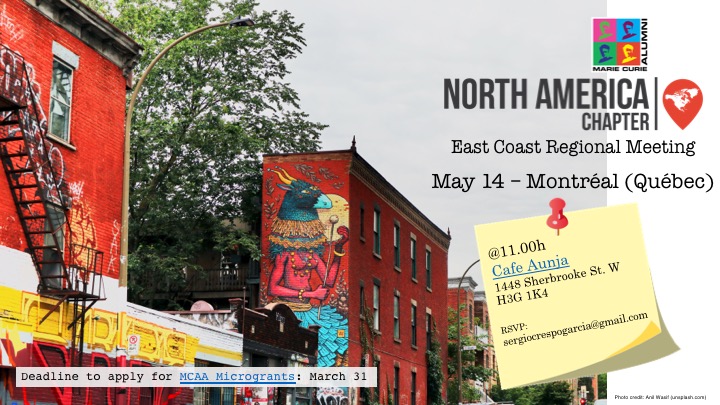 ​
The Marie Curie Alumni Association North-America Chapter wants to celebrate the arrival of Spring 2022 by meeting with you! All MCAA fellows and alumni in the East Coast are invited and encouraged to attend this meeting that will take place in Montréal (Québec, Canada) on May 14 (Saturday)*.
This will be an excellent opportunity to connect with new MCAA fellows, build your network and enjoy the cafe Montreal scene and its gastronomy!
In order to have spots for everyone, please confirm your attendance as soon as possible by email to: Sergio Crespo-Garcia, MCAA-NA East Canada Coordinator (sergiocrespogarcia@gmail.com).
As a reminder, all MCAA members are eligible to obtain a micro-grant for travel purposes in order to attend this meeting, so don't miss the chance and apply before March 31 at https://www.mariecuriealumni.eu/mcaa-micro-grants.
We are very excited and hope to see you there!
*This activity is for MCAA members only, and will take place in-person and will follow COVID-19 local regulations. However, we encourage all attendees to monitor their health state and self-test (e.g. COVID-19 antigen test) the day before the meeting.
Event Start Date
14 May 2022
Event End Date
14 May 2022