Where does Iran stand?: An academic perspective of the movement "Women, Life, Freedom"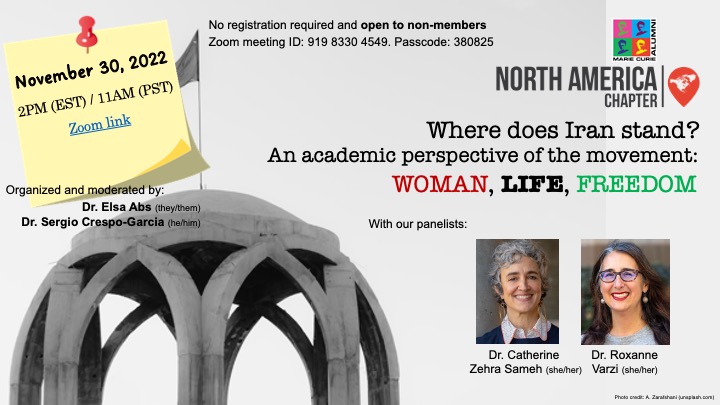 ​
*** EVENT OPEN TO NON-MEMBERS ***
WHEN: 30 November 2022
DURATION: 1 hour
TIME: 11AM-12PM (PST) / 2PM-3PM (EST)
WHERE: Zoom link (Meeting ID: 270 644 3742; Passcode: 013305) MARK YOUR CALENDAR!
Or here: https://mariecuriealumni-eu.zoom.us/j/91983304549?pwd=dVgxVnZrbVdUMzEvV0wyR2w2Uk5udz09
The current political climate in Iran is becoming a challenging scenario affecting all aspects of society, including universities and academic life. Despite the efforts of international journalism and media, there exists great unawareness on this crisis. 
Join us with our panelist experts Dr. Catherine Zehra Sameh (she/her) and Dr. Roxanne Varzi (she/her) to discuss the movement "Woman, Life, Freedom" in preserving women rights in Iran and following the death of Mahsa Amini while in police custody. We will facilitate a forum to visibilize the current situation in Iran from a social and humanistic perspective. 
This seminar is brought to you by the Marie Curie Alumni Association North-America Chapter and will be moderated by Dr. Sergio Crespo-Garcia (he/him) and Dr. Elsa Abs (they/them). Please invite your friends as this event is open to non-membership and does not require registration.
Our panelists: 
Dr. Catherine Zehra Sameh (she/her). Associate Professor in Gender and Sexuality Studies, University of California, Irvine (UCI)
Dr. Roxanne Varzi (she/her). Professor, University of California, Irvine (UCI)
Event Start Date
30 Nov 2022
Event End Date
30 Nov 2022