Inclusiveness in Academia: Lessons learnt by North-America (Chapter III)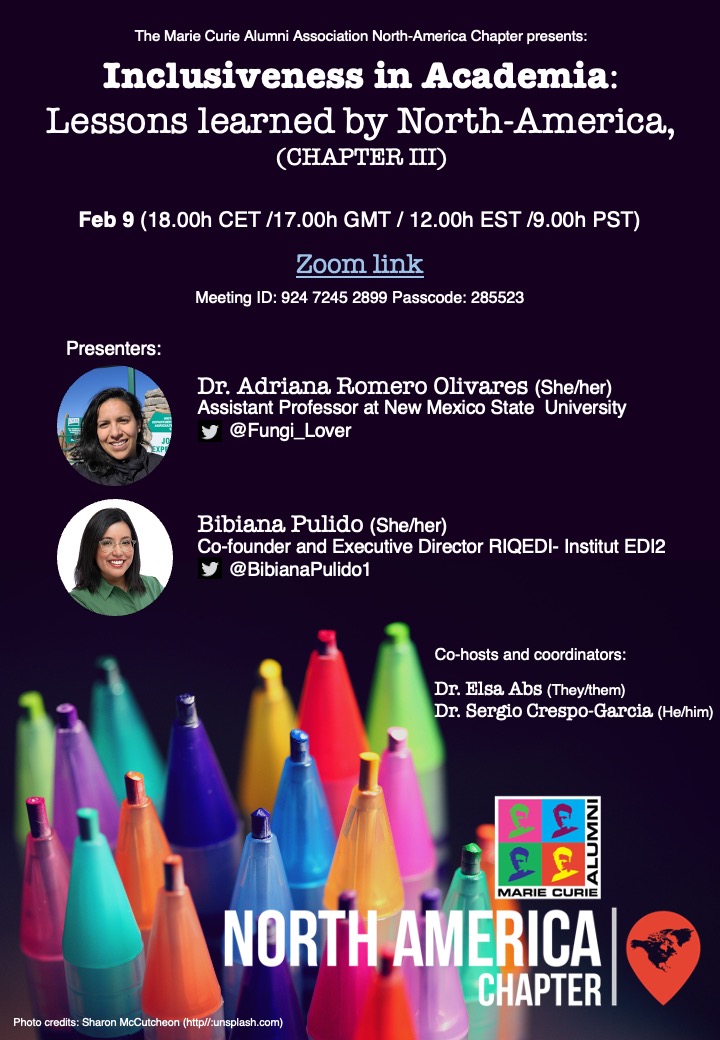 ​
**This event is open to non-MCAA members and everyone is welcome!**
The Marie Curie Alumni Association North-America Chapter is pleased to invite you to our incoming seminar and round-table on diversity and inclusiveness in academia. From the hand of the experts and advocates Dr. Adriana Romero-Olivares and Bibiana Pulido, we will be addressing the progress that North-America has made regarding inclusiveness in academia during 2022, with special attention to the programs engaged by North-American universities and how this is translatable to Europe. We are very excited to have you join this discussion with our great panelists and co-hosts, Dr. Elsa Abs, Dr. Sergio Crespo-Garcia.
Date: Thursday Feb 9, 2023
Time: 9am PT/ 10am MST/ 12pm Montreal time/ 6pm CET 
Zoom: Meeting ID: 924 7245 2899; Passcode: 285523
https://mariecuriealumni-eu.zoom.us/j/92472452899?pwd=T2N1UUtUNk1McDkvW…
Biographies of the speakers
Bibiana Pulido
Co-founder and Executive Director RIQEDI-Institut EDI2Bibianahas always believed in the importance of addressing the injustices that mostmarginalized people in society may experience and in ensuring inclusive environments for all. With this in mind, she co-founded the Réseau interuniversitaire québécois pour l'équité, diversité et inclusion (RIQEDI), a nonprofit organization that brings togetherQuebec universities as well as several stakeholders in the university community who have the mandate or desire to promote and integrate the values of equity, diversity and inclusion within their institutions. She is the Executive Director of this organization.Bibiana is also the Director of Partnerships, Learning and Training Development at theInstitut Équité Diversité Inclusion Intersectionnalité (EDI2). For the past year, she has contributed to the development of the Master's degree in Equity, Diversity and Inclusion At Université Laval and is also responsible for coordinating the program, while having the opportunity to teach. With a multidisciplinary background in political science, LatinAmerican studies, management, and industrial relations (with a specialization in human resources), she has contributed as a researcher and manager to numerous research projects and has developed expertise in the fields of innovative, creative and academic industries, well-being at work, skills development, knowledge management, equity, diversity and inclusion management, discrimination in organizations and unconscious bias. Bibiana Pulido works as a consultant, through her company CIDI, in various projects related to her expertise in different sectors. In a constant desire to learn and to be involved in scientific research, she is also a PhD candidate in industrial relations(human resources) and works on knowledge development in the video game clusters in Quebec and Sweden. She is very dedicated to teaching and mentoring students, university research and community involvement.
Adriana Romero-Olivares
I'm so happy to introduce Adriana Romero Olivares. Adriana is a colleague environmental microbiologist, friend and an active thinker and doer on how to make our science community more inclusive. She is an Assistant Professor in the Department of Biology at New Mexico State University. In her lab, they investigate how soil microbes respond and adapt to climate change to assess their impacts on ecosystems. She works at the intersection of ecosystem ecology and evolution, with an emphasis on soil fungi. She is passionate about feminism, intersectionality, social justice, and equity in general, and in particular in STEM. She is very active to make our science community more inclusive through talks she's given at national conferences of ecology like "Supporting researchers, not just their science", the contribution to articles like "Decolonizing ecology for socially just science" and her commitment to organizations like SACNAS (Society for the Advancement of Chicanos/Hispanics and Native Americans in Science). 
Event Start Date
09 Feb 2023
Event End Date
09 Feb 2023