Starting your career in Heritage Science at ISPC-CNR: MSCA Postdoctoral Fellowships Infoday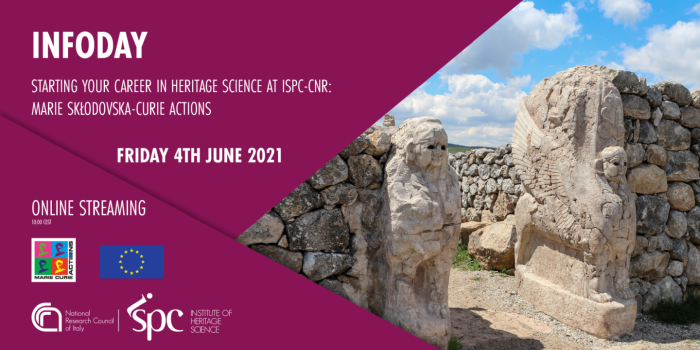 The info day "Starting your career in Heritage Science at ISPC-CNR: Marie Skłodowska-Curie Actions", taking place online on the 4th of June 2021 at 10 AM, is addressed to postdoctoral researchers of any nationality who are interested in the important chances offered by the MSCA-PF under the new Horizon Europe programme.
In 2021, applications to the Postdoctoral Fellowships should open June 22nd and close October 12th (dates still to be officially confirmed). If you are planning to apply to this programme within the field of Cultural Heritage, the Institute of Heritage Science is the ideal host institution for this stage of your career development.
The mission of this interdisciplinary institute consists in pursuing scientific excellence and in encouraging innovation in knowledge, conservation and use of cultural heritage through collaborative research involving humanities, experimental sciences and technological applications.
The info day allows researchers in the field of cultural heritage to get to know more about one of the most interesting training opportunities offered by the main European research programme, Horizon Europe, as well as several outstanding research lines of our institute, including prehistoric and Phoenician archaeology, Raman spectroscopy, remote sensing and landscape archaeology.
Thanks to the participation of some of the main experts on project management and the CNR ISPC supervisors, the event will facilitate understanding the new call, help to implement your project proposal idea, to choose suitable supervisors, providing you with all the crucial information necessary to apply for funding and to learn how your ideas will achieve impact.
---
Event Start Date
04 Jun 2021
Event End Date
04 Jun 2021
Agenda
10:00
Opening Speech – Costanza Miliani (Director ISPC-CNR)
10:10
I Session: European Fundings for early researchers
- MSCA PostDoctoral Fellowships under Horizon Europe: an overview of the next call and main novelties, Marco Ferraro (NCP APRE)
- Tips and tricks for a winning proposal, Brian Cahill
10:50
II Session: Meet your ISPC-CNR supervisor
- ISPC Raman Spectroscopy Lab: Advanced Methods for Heritage Science, Claudi Conti
- From artifact to historical site; remote sensing and data science based approaches, Nicola Massini
- The Mediterranean Dimension of Levantine Coast in theFirst Milennium B.C. - Ida Oggiano
- Modelling human behaviour in Mediterranenan late prehistory, Maja Gori
11:30
III Session: Best practices at ISPC-CNR
- The CRAFT project – Carlo Rindi Nuzzolo (ISPC-CNR IF-Global Fellowship)
- The MSCA Alumni Association – Angela Bellia – (ISP-CNR Researcher)
11:50
Q&A Time
Conclusions and Closing Remarks