MCAA SEA at SHARE Policy Dialogue and EURAXESS ASEAN roundtable discussion on the issue of 'Women in Science and Research: Minding and Bridging the Gap'
Background
Although women make up half of the world's population, less than 30% (2019) of the world's researchers are women. Reports have shown that in academia, women tend to receive less grant funding, even though they are as productive as men. Further, they publish as much as men but are less likely to publish in high-profile journals or to be first or last authors. Women-authored publications receive fewer citations. Women are passed over for promotion. The current pandemic further exacerbated problems such as the lack of access to childcare, the need for time to do home-based schooling and increased need to care for elderly family members.
Building a better world means opening platforms that celebrate accomplished women in science and engaging in open and collaborative dialogues on the trials and travails of being a woman in the STEM fields, on both a regional and international scale.
An important step is the gathering of policy-makers, academia and research heads and women scientists themselves for a discussion on the future of the scientific workplace and research space.
On the occasion of International Women's Month, this virtual dialogue aims to put the spotlight on the pivotal role of women in science, technology and innovation in order to sustain the world's advancement and sustainability.
The European Commission is committed to promoting gender equality in research and innovation. Strengthening gender-inclusiveness in R&I is part of the European Commission Gender Equality Strategy for 2020-2025, which sets out the Commission's broader commitment to equality across all EU policies. Gender is considered a crosscutting priority in the EU's Framework programme for Science, Research, and Innovation 'Horizon Europe' and the creation of Gender Equality Plans has been introduced as an eligibility criterion.
Addressing gender equality is a stated priority for all ASEAN Member States and for ASEAN. The ASEAN Gender Mainstreaming Strategic Framework 2021–2025 outlines a strategic direction for a whole of-ASEAN gender mainstreaming approach by presenting a set of mutually reinforcing objectives, approaches, and activities that will build ASEAN's commitment, capacity, and culture in relation to gender and inclusion.
The session anchors on the 17 Sustainable Development Goals especially SDG 5 on Gender Equality and SDG 17 on Partnerships for the Goals which focuses on the importance of global collaborations to achieve the Agenda 2030. The SDGs and targets are integrated and indivisible, global in nature and universally applicable, and take into account different national realities, capacities and levels of development and respecting national policies and priorities.
Women's empowerment and gender equality is one of the SDGs, however, it must be stressed that it is also integral to all dimensions of inclusive and sustainable development. In short, all the SDGs depend on the achievement of Goal 5.
To improve policy-making in support of gender equality, the forum provides a space to exchange ideas, discuss challenges and explore solutions together.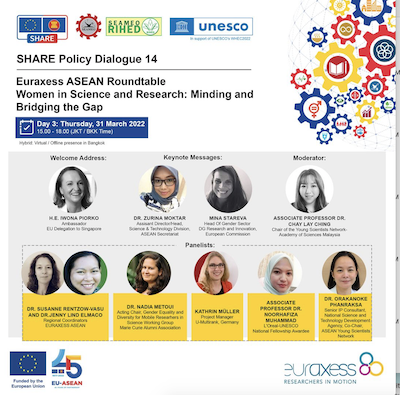 SPEAKERS
H.E. Iwona Piorko (PhD) began her term as European Union Ambassador to Singapore on 1st September 2021. Prior to her assignment in Singapore, she held several positions in Brussels. Most recently, as Member of Cabinet of the European Commission Executive Vice-President for 'Europe fit for the Digital Age' Margrethe Vestager, she oversaw a portfolio that included industrial policy, SME strategy, internal market, trade, e-government as well as coordination with the EU Council of Ministers. Previously, she was Head of International Affairs at the European Commission's Directorate-General for Internal Market, Industry, Entrepreneurship and SMEs. From 2014 to 2017, she was Member of Cabinet of the EU's Foreign Policy Chief Federica Mogherini. From 2010 to 2014, she was Member of Cabinet of Commissioner for Enlargement and European Neighbourhood Policy Štefan Füle. She holds a Doctorate in Contemporary European Studies from Sussex European Institute, University of Sussex, Brighton and a Master of Arts degree in Advanced European Studies from College of Europe. In addition to her native Polish, she speaks English, French and Spanish and understands German and Russian.
Ms. Mina Stareva is the Head of the Gender Sector in DG Research and Innovation, the European Commission. She holds a Bachelor's degree in Law from Robert Schuman – Strasbourg University and a Master of Arts degree in Political Sciences from the College of Europe. Prior to joining the Science with and for society unit in DG Research and Innovation, she has been working on developing the European Research Area policy and international cooperation.
Dr. Zurina Moktar, works at the ASEAN Secretariat as the Assistant Director/Head of Science and Technology Division. She previously served at the Ministry of Environment and Water of Malaysia as the Principal Assistant Secretary. Prior to that she was the Special Officer to the Deputy Minister of Energy, Science, Technology and Climate Change, Malaysia. She previously served at the National Institute of Public Administration, Malaysia as a training consultant) and trained more than 1,000 government officials in the area of public policy. She obtained her MPhil and PhD from the University of Cambridge. Dr. Zurina has also been attached to the Permanent Mission of Malaysia to the United Nations, New York, and the Innovation Agency of Malaysia. In the UK, Dr. Zurina was the Deputy Director for Cambridge i-Teams, assisting the commercialisation of more than 20 new technologies. She was awarded the 2018 Innovative Youth Incubator Award in Washington DC.
Dr. Nadia Metoui is the Acting Chair of the Gender Equality and Diversity for Mobile Researchers in Science Working Group of the Marie Curie Alumni Association, MCAA (2018-2020). She is an Assistant Professor in Artificial Intelligence and Ethics at TU Delft. Before Joining TU Delft, she was a postdoctoral fellow at the University of Amsterdam. She studied AI-enhanced communication and its impacts on individuals and the society in the areas of politics, health, and commerce. She obtained her industrial PhD in computer security and privacy in 2018 from the university of Trento within the FP7 Marie Curie ITN funded project SECENTIS (European Industrial Doctorate on Security and Trust of Next Generation Enterprise Information Systems) held in collaboration with the research foundation Fondazione Bruno Kessler (FBK) and SAP Next Business and Technology. Her doctoral research focused on privacy risk aware access control systems. She also worked a postdoctoral fellow at the university of Milan within the research project Privacy-aware Cyber-security PACS.
Ms. Kathrin Müller is project manager with U-Multirank, Germany. U-Multirank is a multidimensional, user-driven approach to international ranking of higher education institutions. U-Multirank is an independent ranking prepared with seed funding from the European Commission's Erasmus+ programme.
Associate Professor Dr. Noorhafiza Muhammad holds a Phd in Mechanical Engineering specializing in Laser Processing from the University of Manchester, United Kingdom in 2012. She is currently an Associate Professor in the Faculty of Mechanical Engineering Technology, Universiti Malaysia Perlis (UniMAP) and also an active Research Fellow at the Center of Excellence in Geopolymer & Green Technology (CEGeoGTech), UniMAP. For her inspiring work in science, she was awarded the prestigious L'Oréal-UNESCO National Fellowship Award in 2014. She has also won the International Gold Winner Award at the European Union Women Inventors and Innovators Network (EUWINN) in 2015 in an event held at the British Library in London, UK.
Dr. Orakanoke Phanraksa is Senior Intellectual Property Consultant at Technology Licensing Office, Technology Management Center, National Science and Technology Development Agency (NSTDA), Thailand and Co-Chair of the ASEAN Young Scientists Network. After receiving a Bachelor of Laws from Chulalongkorn University, Thailand, Dr. Phanraksa pursued her education in the USA. She received a Master of Laws (LL.M.) and Ph.D. in laws from the University of Washington in 2000 and 2005 respectively. She is a policy specialist in the field of intellectual property law. Since 2010, she has been working closely with the Office of the Higher Education Commission (OHEC) and has played a key role in forming a policy framework to promote and strengthen technology licensing offices and IP professionals in the academic institutions within Thailand. This further extends to a recent collaboration between the World Intellectual Property Organization (WIPO), the Department of Intellectual Property (DIP), and NSTDA to run a six-year project called "Enabling IP Environment" in Thailand. In 2019, she was the first to be awarded the Global IP Champion Award from the Global Innovation Policy Center, US Chamber of Commerce. This award was given to five individuals in the field of intellectual property who are leading efforts to bring about positive change in their communities and around the world. Apart from her professional experience in the IP space, she is the past Co-Chair of the Global Young Academy, a non-profit organization with 200 top young scientists from all disciplines from around the world. At present, she is the Interim Co-Chair of the ASEAN Young Scientists Network.
MODERATOR
Dr. Lay Ching Chai is an assistant professor at the Institute of Biological Sciences, Faculty of Science, University of Malaysia, Kuala Lumpur. She is the Chair of the Young Scientists Network- Academy of Sciences Malaysia. She is an active researcher with her research focus on improving the safety and security of the food system in the region. Dr Chai has established numerous collaborative researches with the food industry and governmental agencies to achieve her scientific endeavor. She was appointed as the scientific advisor of International Life Science Institute Southeast Asia region for her active research and achievement in the food safety field. Dr Chai is also a strong advocate for research integrity and is one of the key players in pushing for responsible conduct of research in Malaysia and the region. She is one of the main-authors of the first Malaysian Module for Responsible Conduct of Research, which was published in 2018. In 2018, Dr Chai was awarded the L'Oreal-UNESCO for Women in Science Malaysia award.
Session Hosts
Dr. Susanne Rentzow-Vasu has previously headed the Information Centre Singapore of the German Academic Exchange Service (DAAD) as its Director from 2008 to 2012. Dr. Rentzow-Vasu also held the post of Senior Policy Officer with the EU Delegation to Singapore. Susanne runs her own consultancy specialising in political analysis and risk assessment. She holds a Master's degree in European Union Studies from the University of Newcastle (UK) and a PhD in International Relations from the University of Wales Aberystwyth (UK).
Dr. Jenny Lind Elmaco is an awardee of the Global Exemplary Award for Education - Double Gold and the Innovative Leadership Diamond Award from the Global Women Inventors and Innovators Network. She is also a Marie Curie Social Impact Awardee and current Chair of the Marie Curie Alumni Association in Southeast Asia. She received her PhD with honors from the UNESCO Chair of the Philosophy for Peace from the University of Jaume I (Spain) and is both a recipient of the Erasmus and Marie Curie Fellowship.
Event Start Date
31 Mar 2022
Event End Date
31 Mar 2022