Beware of UK foreign aid projects - Durham University academics given 2 weeks to leave UK
Two Durham University academics who have lived in the UK for 11 years have been given two weeks to leave the country after undertaking humanitarian work in Mexico.
Dr Ernesto Schwartz-Marín and Dr Arely Cruz-Santiago, who have an 11-year-old daughter, travelled to Mexico in 2014 and 2015 to work with victims of gang violence and build a DNA database to help locate missing people.
But the Home Office has told Schwartz-Marín and Cruz-Santiago, who is on a dependent visa, they must leave the UK after spending more time overseas than was allowed on his visa – despite the existence of an exemption to this rule for those helping with humanitarian crises. The humanitarian project in Mexico that the couple were working on was backed by the government-funded Economic and Social Research Council and carried out as part of their work at Durham University.
A legal challenge against the Home Office decision has been launched after supporters started a crowdfunding page.
Launched by the campaigning barrister Jolyon Maugham QC, it has already raised more than £10,000 since the weekend. Durham University has also contributed £5,000 towards Schwartz-Marín's legal challenge.
"It's awfully difficult to understand how academics who have been in this country for many years ... from a UK institution, funded by the UK government to do work to alleviate a humanitarian catastrophe ... could be somehow regarded as undesirable and obliged to leave the country," said Maugham.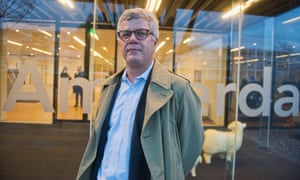 Jolyon Maugham QC: 'It's awfully difficult to understand how academics who have been in this country for many years ... could be somehow regarded as undesirable.' Photograph: Victor Lacken/Guardian
The couple are concerned they will be put at risk if they return to Mexico because of their work with gang violence victims. "It's one of the biggest war zones in Latin America, with 160,000 people killed in the last 10 years," Schwartz-Marín told the Guardian. "People who we have worked with have died."
They would also come under pressure to share sensitive data compiled through their project.
Schwartz-Marín is an anthropologist while Cruz-Santiago is a human geographer who recently completed her PhD at the university. The couple, who face having to uproot their daughter from her life in the UK, have received strong support from the academic community.
"We have very recently been made aware of the developments of this case," said Prof Tim Clark, the pro-vice-chancellor (social sciences and health) at Durham. "We are not able to comment on personal circumstances. However, we are committed to supporting our staff wherever possible and we are providing such support in this instance."
"Durham UCU deplores the attempt to deport Dr Schwartz-Marín," said Francis Pritchard, honorary secretary of Durham's University and College Union. "We feel it is symptomatic of lack of understanding by government of how universities and academics operate, particularly with regard to fieldwork.
"We're appalled that anyone should be given 14 days' notice to leave the country no matter who they are. That in itself is scandalous."
The Home Office said Schwartz-Marín's application for indefinite leave to remain had been refused as he had been absent from the UK for more than 180 days within the past five years, and added: "Anyone without valid leave to remain is expected to leave the country voluntarily, or face removal action if they don't."
The Home Office has not specified why it does not consider Schwartz-Marín's case to be covered by the tier 2 visa humanitarian exemption.
https://www.theguardian.com/uk-news/2018/mar/16/durham-university-academics-given-two-weeks-leave-uk-home-office-ruling-legal-challenge
MWR adds
So the message to non-EU national researchers or staff in the UK - beware of foreign assignments and their implications for your visa requirements. The UK is continuing to shoot itself in the scientific foot