Communicating Science Effectively - Effective Science Communication for Researchers"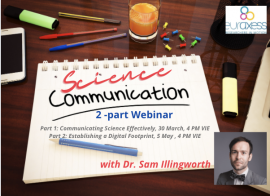 In this seminar, Dr Sam Illingworth will present an overview of how to effectively communicate your scientific research to different audiences. This will also include a discussion of how to prepare and deliver engaging oral presentations and poster presentations in both in-person and virtual environments.
This event will take place on:
Tuesday, 30 March 2021
4.00pm VIE/5.00pm SG/10:00am UK / 11:00 CEST
To register, please click here.
GROUPS