Communicating Science in the (Post?)-Pandemic Age: Making the most of your Virtual Shared Environment
May 12, 2021 09:30-11:00 EST / 15:30-17:00 CET

Speaker:

Lisa Shufro, Conference curator, storyteller, and media executive

http://lisashufro.com/aboutlisa

Chair:

Cristina Blanco Sío-López, MCAA-NA
This webinar will address not just methods to enhance your pandemic online environment and presentations but it will also inspire you to thrive in science communication, to refine how you convey your key research and professional messages and to enjoy public performances as a means to empower you and your audience!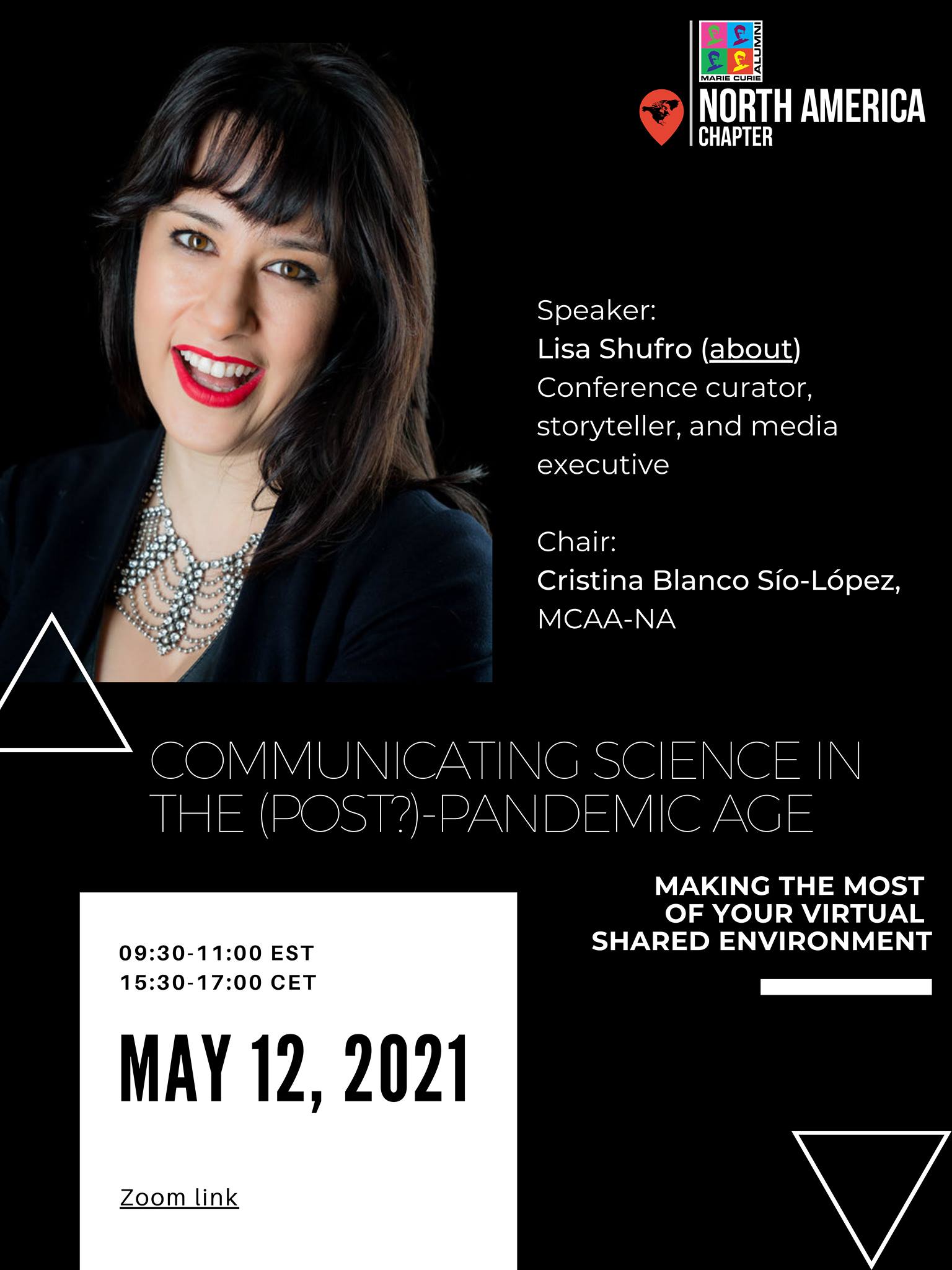 SPEAKER'S BIO
http://lisashufro.com/aboutlisa
Lisa Shufro is a conference curator, storyteller, and media executive.
Recognized as a savvy, genuinely insightful 'dot connector,' she is best known for producing inventive stage programs that combine science, business, and technology with the arts and humanities. 
As co-founder of thesupercurious, she helps executives create unique content and events to enhance their brand. Her clients range from CPG giants like Danone, to music media brands Noisey by Vice and Life is Beautiful, as well as shaping global scientific gatherings for Next Einstein Forum, African Institute of Mathematical Sciences, American Psychological Association, the National Science and Technology Development Agency of Thailand, and the Global Young Academy.
Lisa is also Chief Storytelling Officer and Executive Editor of WhatMatters.com, co-founded by John Doerr, the legendary venture capitalist and author of Measure What Matters, and Ryan Panchadsaram, former Deputy Chief Technology Officer of the United States.
It was as the founding Managing Editor & Producer of TEDMED that Lisa's love of science and storytelling first converged. From 2011 - 2013, she led the selection and preparation of renowned presenters for its annual conference. The fresh, innovative talks she produced have generated tens of millions of views on TED.com and other platforms. She also served as co-host for TEDMED's global broadcast from the Opera House of the John F. Kennedy Center for the Performing Arts.
In 2013, Lisa moved to Las Vegas at the invitation of Zappos CEO Tony Hsieh, who personally gave her the job title of "Magical Awesomeness Catalyst" of Downtown Project. Appointed Curator for Inspire Theater and the Life is Beautiful Festival, she brought communities together through original programs that featured thought leaders and performers such as Penn & Teller, Pussy Riot, and Cirque du Soleil.
Prior to her career in media, Lisa held numerous leadership roles in business innovation. She has helped Amazon launch their first product expansion beyond books; led the holacracy implementation for Downtown Project; and conducted R&D for Walker Digital, the lab behind the first internet "unicorn," priceline.com.
Lisa holds a degree in music from Yale University.
GROUPS