Webinar - "Filing taxes in the USA as a visiting scholar: a quick overview" - 5 May 2021 - 4.30 pm EST
Speaker: Federico Aletti
Moderator: Pasquale Pizzimenti, Marie Curie Post-Doctoral Fellow
Date: 5 May 2021
Time: 10.30 pm Brussels time; 4.30 pm East Coast ;1.30 pm West Coast
Zoom link: https://mariecuriealumni-eu.zoom.us/j/91943354779?pwd=dXhKcjJLYW1najBaNERHeWN0bVplQT09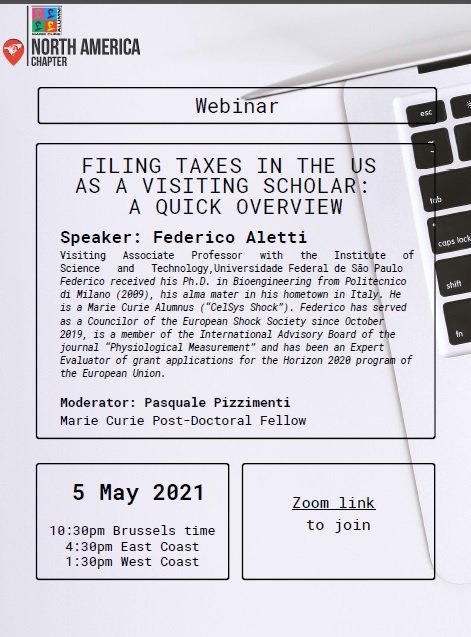 ​
Webinar Outline – "Filing taxes in the USA as a visiting scholar: a quick overview"
Filing taxes as a Visiting Scholar in the USA requires the effort of understanding the basic, albeit complex, conditions of fiscal residency, including the possible differences between federal and state tax return. This task may be less grueling than expected if a systematic approach is taken. We will cover how to determine fiscal residency according to the amount of time spent in the United States during the fiscal year 2020, and how to identify the need to file a federal and/or state return.
Tax Day in the USA is traditionally April 15, but in 2021 this deadline has been postponed to May 17 due to the COVID-19 Pandemic.
Federico Aletti'sBio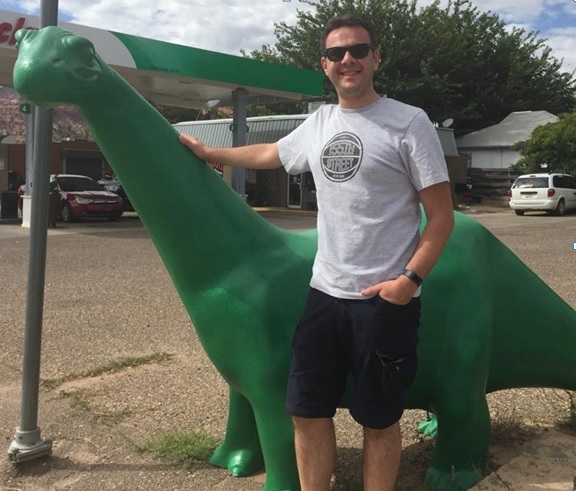 Federico Aletti (pictured with his favorite pet)received his Ph.D. in Bioengineering from Politecnico di Milano(2009), his alma mater in his hometown in Italy. He is a Marie Curie Alumnus ("CelSys Shock" Marie Curie International Outgoing Fellowship, 7th Framework Program) and, after spending the last few years as ascientist with theDepartment of Bioengineering at the University of California San Diego, he recently moved to Brazil where he is now a Visiting Associate Professor with the Institute of Science and Technology, Universidade Federal de São Paulo.
Federicohas served as a Councilor of the European Shock Society since October 2019, is a member of the International Advisory Board of the journal "Physiological Measurement"and has beenan Expert Evaluator of grant applications for the Horizon 2020 program of the European Union.
Federico's research is focused on novel models to understand and interpret acute diseaseand to design new therapies and technologies for patients requiring intensive care. He is also trying to help in the fight against COVID-19 by exploring the common features between bacterial and viral sepsis of little understood but potentially fatal complications.
GROUPS