The 66th Lindau Physics Nobel Laureates Meeting Opening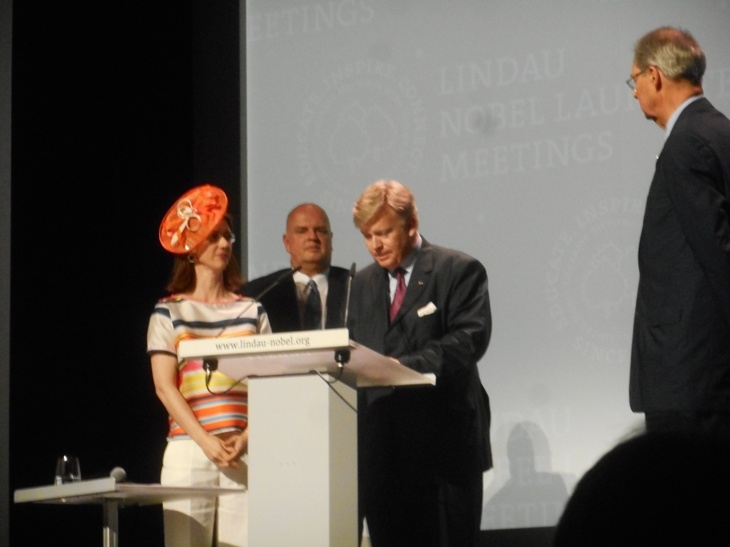 As a mentor of post-docs, I have had the pleasure of attending the Lindau meetings five times now. But when I attended as such, my employer ensured my stays were for the minimum period; this, coupled with awkward location and travel rules, meant previous years were 'in-and-out' affairs with stays in modest lodgings, sometimes even in an adjacent country.
Imagine my delight when, in 2016, I was invited to attend in a purely personal capacity.  I could actually attend the opening day in the historic Lindau Town Hall, where the very first meeting took place in 1951, which it seems Einstein tried to thwart by discouraging German Nobel émigrés in the US from attending. The motto is: Educate, Connect, Inspire – you cannot really argue against that in this day and age of economic  'short-termism', political opportunism and religious fanaticism bordering on intolerance of anything diverging from strict dogma.
The introductory day in 2016 was rather focused on the achievements of one man; Dr Wolfgang Schuerer, who, despite his denials, has turned around an almost moribund German-centric event into an international powerhouse that draws captains of industry and leaders of men from around the world. Schuerer's vision, for a forum where the young can be inspired by the best, has generated a string of sponsors that guarantee a solid basis for the future of the event. He had already received the highest civilian order of merit from the German government, and now it was the turn of the Lindau Foundation to pay its respect.
Just now my battery packed up on my camera, so I turned around seeking help to the researcher behind me. It turns out he was a Marie Curie fellow from Mexico and voila, networking is inevitable.
Schuerer pulled no punches, reminding us of the historic reasons why Germany was isolated scientifically after WW2, but also pointing to the many achievements in the past 66 years based on these Lindau events, the resulting networking, and the global reach of the ever-increasing alumni. He reminded female scientists that we are all aware of the special demands put upon them also as mothers, and thus the 40% attendance level is especially gratifying.
The audience consisted of 400 young researchers, many of them having travelled a long way to get there from one of the 85 countries represented, and a series of VIPs who were sponsors of some sort. As it turned out, it was the professional Master of Ceremonies who seemed to have jetlag – his introduction of the President of Austria as the President of Germany, in deeply conservative Bavaria, lightened the mood somewhat. An ensemble of the Vienna State orchestra kept us awake with the Trout Quintet littering the long afternoon of laudatory statements.
Then the surprise – as Lindau is prone to do; an American comedian came on stage and told a series of scientifically-based jokes which, sadly, due to the rapidity of their delivery, went over the Google translate capability of 80% of the audience, who did not have English as mother tongue. Some very funny jokes went unappreciated, and it reminds us that science maybe global, but jokes do not necessarily travel from AAAS to Lindau. I hope that Lindau will publish this section, giving us all time to dismember the jokes at leisure and allow us to appreciate the art (and sometimes need) of good humour. His main line, that birds are Mesozoic-era Theropod dinosaurs, led to some obviously funny conclusions about how dinosaurs impact our day to day lives and food chain, and questioning why was Jurassic Park so novel when they are all around us ... Spooky...
After three hours, the formalities were over, the Trout quintet back on the steamer to Austria, and the delegates could look forward to a unique experience for them, which they hopefully will capitalise on via the Alumni system and within their host institutions. Those not lucky enough to attend can see the present and past lectures in a professional mediatheque, where there are also tools to work on the material for learning/teaching purposes.
Congratulations to Professor Schuerer for singlehandedly giving us such a unique forum for the years to come, and we wish him a long and quiet retirement: which, incidentally, the "Nobels" denied him by making him the Honorary Chairman of the Board. There is no escape.