COVID-19 PANDEMIC SHUTTERS CHICKPEA LAB
'The interruption of our projects might have an impact on our careers. We are not setting the stage for current work in our fields. But this crisis is an opportunity to promote civic responsibility.'
YESTERDAY
As part of the activities held in celebration of European Researchers' Night at the University of Córdoba in Spain last September, MCAA fellows had the opportunity to brief Frank Marx about their projects. Meeting in the Mudéjar Hall, with its delicate ornamental plasterwork (one of the most beautiful rooms at the University Rectorate building), they informed him about nearly finished and ongoing projects.
Marx heard about FORCE, a new project aimed to decipher the molecular basis of flowering time in chickpeas. As the enthusiastic new Principal Investigator, I briefed Marx about how the domestication trait defined the adaptation of the species to climatic conditions. I explained how flowering time is a major determinant of chickpea productivity. Adopting an integrative approach by combining computational plant biology and genetic resources exhibiting phenotypic diversity would allow us to understand how genetic variants combine to provide adaptation to specific environments. In the long run, we could use that knowledge for introgression of new traits into adapted genetic backgrounds. I tried but could not contain my excitement.
Fast forward four months. On 13 March, we were sent home from our lab (as was the case with many other research institutions around the world). That morning, I picked some notebooks, papers, and notes from my desk. On this day, with the official numbers of COVID-19 cases reaching 4 000 and 120 confirmed deaths in Spain, all lab work and teaching activities were put on hold. I left the University without knowing I would not be able to return to my office in the following two months, maybe even more…
TODAY
I feel fortunate that national confinement measures happened at the onset of my project. If this were to happen in more advance stages, it would have definitely put at risk the grant agreement. As FORCE is heavily dependent on laboratory work, I was very much concerned at the beginning of the lockdown. However, I obtained permission from the University to keep working once a week on the growing chambers, watering the plants, and keeping them alive. At least, I may have data for the time when the lockdown is over. Since my activities require a limited physical presence, I have come to think about the MSCA fellowship in a more social perspective, which is also a core principle of the programme.
At the time of writing this article, the coronavirus has spread to almost every country in the world and has undermined public healthcare systems and destroyed the interconnected global economy in just a blink of an eye. Our free movement before the coronavirus crisis now feels like a distant memory. The most highly valued experiences (those connected with our loved ones and friends) are being missed. In light of the pandemic, any academic achievement feels like an irrelevant victory.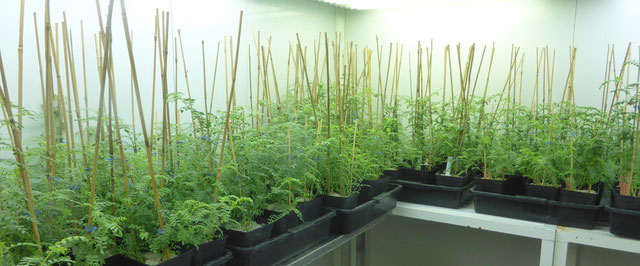 The FORCE project's chickpea plants in the growing chamber at the University of Córdoba, February 2020.
As nations confront the worst public health emergency of our lifetime, politicians across the globe invoke a battle terminology to describe the pandemic and our response. But pandemics are not wars. And we are not soldiers. The case for invoking wartime imagery is a matter of keeping the morale high. The only real question is whether belligerent schemes work. If the pandemic is framed in military terms, the gravity of the public-health crisis is communicated, the personal sacrifice is recognised, and a national response may be galvanised. So, why object?
LESSONS FROM THE CRISIS
Actually, many object. On Spain's national public radio RNE I listened to a citizen commenting that "sports are allowed as long as they are practiced individually, it means we are winning the fight against coronavirus." It actually means that any person exposed to the virus experiencing serious symptoms may have a chance at finding a hospital bed. It means people have better access to healthcare.
Flattening the curve is a public health strategy not to fight against the invisible enemy but to slow the spread of the infection. The use of war metaphors in biology is not particularly helpful as they often lack precision and clarity. When misconceptions are rooted in the collective imagery, they act as barriers to understanding. My take on this crisis is that we must promote trust in science. Being trustworthy depends, most of the time, on honesty and transparency. The novel coronavirus that causes the infectious disease is not an enemy, but a biological agent driven by natural selection. Until a vaccine or an effective treatment is available, it is here to stay and interact with human evolution.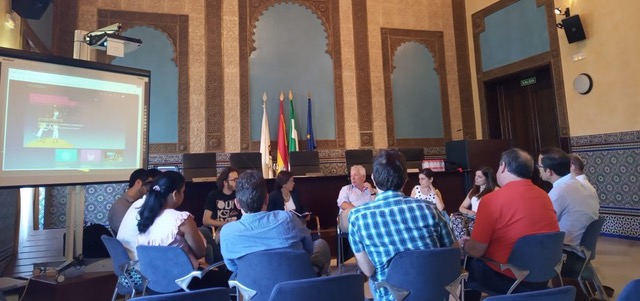 Dr Frank Marx and Marie Curie fellows meeting at University of Córdoba on 27 September 2019.
MSCA fellows have worked hard to achieve this funding and careerbuilding opportunity. The interruption of our projects might have an impact on our careers. We are not setting the stage for current work in our fields. But this crisis is an opportunity to promote civic responsibility. Our communications through these difficult times to broader audiences represent our commitment to public engagement. In this way, we do pursue an important objective in our research projects and contribute to the knowledge-based economy and society.
Jose V. Die is a plant geneticist and computational biologist working at Córdoba University's Department of Genetics-ETSIAM. He is a researcher in the project H2020-MSCA-IF-2018 "FORCE, Molecular basis underlying the QTL responsible for the genetic control of flowering time in chickpea: an integrative approach."
JOSE V. DIE
DEPARTMENT OF GENETICS, ETSIAM,
UNIVERSITY OF CÓRDOBA, CÓRDOBA, SPAIN