HOW THE POLISH CHAPTER IS COPING WITH COVID-19

Rohan in his own words
Rohan Soman has a background in Structural Engineering. He completed his bachelor studies in Mechanical Engineering at the University of Pune (India) and obtained his master's degree in Engineering Design with research in the area of damage detection in 2010 from the University of Manchester (UK). He currently works in Poland as a post-doctoral researcher in the Mechanics of Intelligent Structure Department at the Institute of Fluid-Flow Machinery, Polish Academy of Sciences (IMP PAN).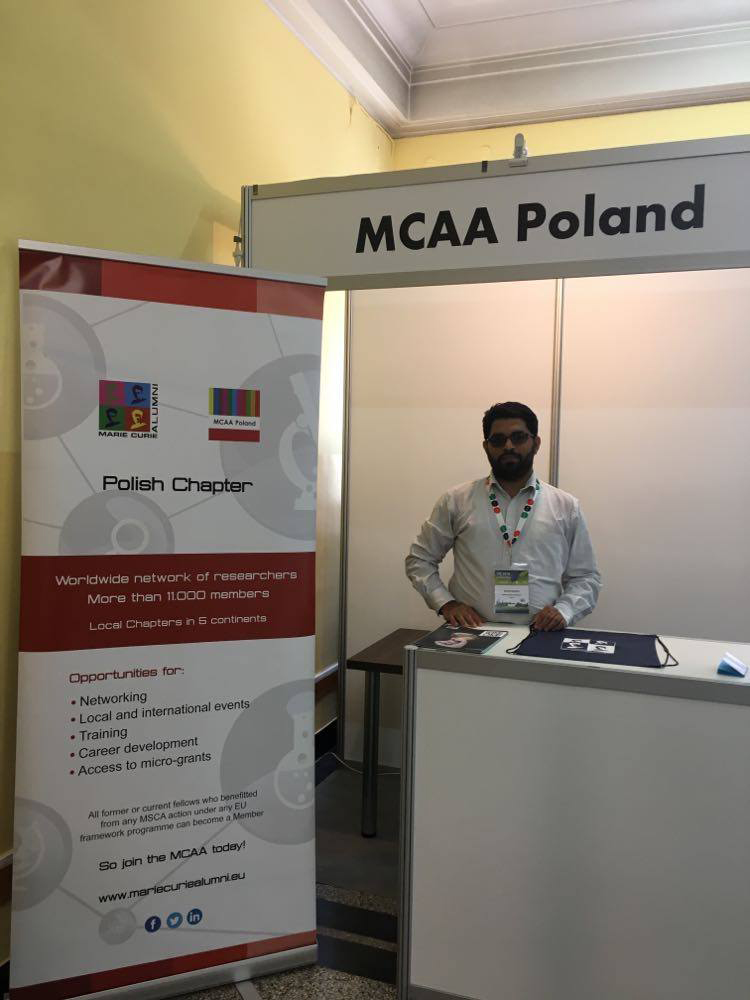 ROHAN'S COMMITMENT
Rohan contributed to the foundation of the chapter together with other MCAA members. "I felt there was a need to provide support for incoming researchers as well as to promote MSCA and MCAA as a single brand," he explains. Therefore, becoming the chair of the Polish Chapter was the ideal way to achieve these objectives and to be deeply involved in the chapter's life.
OBJECTIVES & ACTIVITIES OF THE CHAPTER
"We have 130 members, most of them based in Warsaw. We have quite a few members of Polish origin residing abroad, but who still feel connected to Poland," says Rohan.
Above all, the chapter is working to recruit new members, as well as to provide support to new members. Moreover, the chapter also aims at helping researchers receive training corresponding to the right stage of their career.
A few activities have already been carried out since last year. In December 2019, the chapter organised a proposal writing workshop. Other activities were held, including a workshop on presentation skills, as well as an event in collaboration with the Bridging Science and Business Working Group aimed at protecting and monetizing your intellectual property (IP). 
An online workshop providing an overview of the funding schemes at the national and EU level was held on 19 June 2020. The webinar included a presentation of planning a research career from established researchers. 
CONSEQUENCES OF THE COVID-19 PANDEMIC
Like many other researchers, Rohan's professional life has been impacted by the COVID-19 pandemic: "I have been working from home so far, but I was supposed to work in the US for three months, and this has been postponed indefinitely. Also, I just started a new national project in March and the process of acquisition of equipment has been affected, which will have a big bearing on the execution of the project," says Rohan.
The chapter's activities were also affected, Rohan adds: "The chapter holds a monthly 'hangout' in Warsaw, which was cancelled in April, and took place online in May. The participation was lower at the online event but provided a greater diversity of participants. In May we were supposed to hold an event aimed at popularising science in a school, as well as a related conference, but both events were postponed."
A hangout was also organised to discuss the effects of COVID-19. "We discussed the impact of COVID-19 on the different areas of research, including people doing lab work as well as simulation work," explains Rohan. The differences between the strategies used in participants' different countries of residence were also placed in the spotlight. "The hangout was interesting, as it gave insight into problems that people from different fields and stages of career and life are facing. It was clear that researchers with kids have a reduced productivity when working from home," notes Rohan. "People doing lab work have been affected adversely, as lab work is running at 10 % of capacity. Moreover, Early Stage Researchers are wondering about the extensions of their contract and about finishing the PhD work in due time. For nonEU members, their residence status is also an issue," he adds.
 
PLANS
Even though the chapter had to face some challenges recently, its members are working hard to propose activities. For example, together with the Austrian Chapter, the Polish Chapter is planning to provide training for young researchers, with a focus on collaboration. 
Other plans include also outreach activities, which will also take place in the summer, once they will be allowed, or through online channels. 
Stay tuned and continue watching the MCAA website for more information about the Polish Chapter!
THE EDITORIAL TEAM