MESSAGE FROM THE BOARD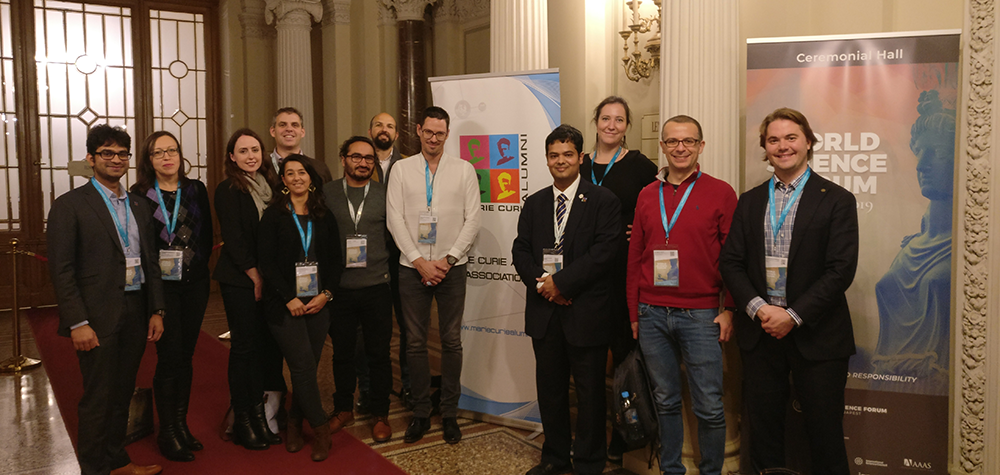 December! Time for celebration and reflection. Time for the family. And what a year 2019 has been for our MCAA family! Looking back, it is both fascinating and a learn­ing year. We began by organising MCAA's biggest conference to date in Vienna, which set the bar high for future events.
To that point, the MCAA Board con­vened in Zagreb, Croatia in October as part of our preparations for 7th Annual General Assembly and An­nual Conference on 28-29 March in Zagreb. Registration for the next Annual Conference is open, so please register for the event and encourage colleagues to participate as well. The MCAA Annual Conference is open to the public, and is a unique experience for researchers across disciplines, nationalities and career stages to engage around issues of careers, politics and society.
The MCAA Board is actively seeking sponsors for the Annual Conference as well as other events and activi­ties, and we welcome all members to join in the efforts. If you know of any potential sponsor, please kindly contact our partnering group (partnering@mariecuriealumni.eu).
Throughout the year since, MCAA Board members have represented the Association in a wide variety of conferences, meetings and other events in order to raise awareness of our policy initiatives, establish partnerships and secure further in kind and financial support for our activities.
In August, MCAA Treasurer Bala Attili and I joined the CASE Europe conference in Birmingham, UK, to develop further expertise in alumni engagement and fundraising op­portunities, with an eye towards integrating this knowledge into our fundraising strategy for the Asso­ciation. In September, Bala and I organised a session entitled "Take charge of your career" at the Vitae Research Development Conference in Birmingham, where we present­ed among other things an update from the MCAA KAZI Bridging the Gap project.
In September, MCAA Board Mem­ber and IDT Working Group Chair Marco Masia joined the EIT Digital Conference in Brussels which gath­ered key players of European Dig­ital Innovation. He met with several EIT representatives and explored how to strengthen the synergies between MCAA and EIT. He also visited the P2I network Enterprise Fair at Cambridge in November 2019 and discussed the support for the next Researchers meet Inno­vators event in Berlin 2020. In ad­dition, Board Member Sara Ricardo and MCAA Secretary Murat Güneş joined the EIT Alumni Conference in Budapest in October to strengthen the partnerships with the EIT Alumni Network. As a result, Sara is lending her support on behalf of MCAA to the organisation of a workshop with all female members at EIT.
On the Chapter and Working Group engagement front, Murat took part in the Swedish Chapter kick-off meet­ing in August. In addition, MCAA Board Chair Matthew DiFranco spoke at the inaugural Failed and Bored Conference in Innsbruck, Austria in September. The confer­ence was a joint effort by the MCAA Austria and Swiss Chapters, as well as the GEMS working group, and highlighted how researchers can better handle failure and adversity in their careers.
In addition, I had the privilege to speak at the 1st Latin America MCAA Research Conference in Buenos Aires. This event was co-organised by MCAA Argentina and Brazil Chapters, EURAXESS Brazil, and the Office of Scientific Cooper­ation between Argentina and Eu­ropean Union. I was glad to see so many active members from both of our Chapters as attendees. A specif­ic session on MSCA was also held at the Spanish embassy with around 100 participants, and next year's conference is already being planned for October 2020 in Rio de Janeiro.
Our Board has been particularly active in the policy arena. In Octo­ber, I took part in the 2nd European Networking Meeting of S4D4C "To­wards a European Science Diplo­macy Roadmap" in Berlin, follow­ing up from Matthew's participation at the inaugural event in January in Krakow. The discussions were centred on how to collaborate and compete in research, and one of the main organisers of the event is an MCAA member.
In addition, the MCAA was invited to give our input at the OECD Global Science Forum's Workshop on the Precarity of Researcher Careers. Matthew represented MCAA at this one day event in Paris, where at least 18 national representatives from around the globe engaged with stakeholders including MCAA on how to address the issues of insta­bility facing researchers in their ca­reers. In particular, the organizers asked MCAA to present our "Dec­laration on Sustainable Research Careers", a joint effort with Euro­Doc which is clearly getting noticed across the science policy landscape.
In what was perhaps the biggest MCAA external representation in a major conference to date, 10 of the MCAA Board members along with a number of other active MCAA members attended the prestigious World Science Forum in Budapest in Hungary. We were invited to not only attend, but also to organize two session, through my collabora­tion discussions with the World Sci­ence Forum organisers following the MCAA Vienna GA.
Matthew organised the MCAA Fo­rum on Research and Democracy, which included a panel of MCAA speakers discussing democratic practices in the research organisa­tion as well as how research could play a crucial role in democracy. I organised the second session on Career Paths in Science Diplomacy. Speakers from American Asso­ciation for the Advanced of Sci­ence (AAAS), World Academy of Science (TWAS), Global Young Academy (GYA) discussed how to train next generation science diplo­mats. Our presence has generated numerous potential partnerships with academic, policy and industrial stakeholders, and raised broad awareness for our policy objectives.
Perhaps most directly relevant to community, MCAA was invited to set the policy agenda for a workshop on MSCA impacts on researcher careers at the December MSCA Stakeholders meeting in Brussels. Matthew represented MCAA and was specifically asked to present the Declaration on Sustainable Re­search Careers and how the MSCA programme can be updated to con­form with the four principals. This event was particularly important as all stakeholders of MSCA were invit­ed to give their inputs on proposed changes to the MSCA programme for Horizon Europe. MCAA members Fernanda Bajanca, Mattias Bjön­malm and Marco Masia were also involved in the discussions, with Fernanda and Mattias serving as rapporteurs for two workshops. Sev­eral other policy initiatives where MCAA has a role to play were also discussed, including Researchers Green Charter and Open Science. If you are interested, you can check the response of MCAA on the Horizon Europe funding here.
In conjunction with the stakehold­ers meeting, a policy brief, Towards Responsible Research Career As­sessment, was published by the MCAA Policy Working group in collaboration with European Com­mission funded New HoRRIzon project. The brief made five key recommendations to the MSCA policymakers to improve the eval­uation system of the researchers. I hope that both the declaration and the policy brief will help organisa­tions to offer attractive services and career development opportunities for the researchers.
I am also excited to inform you that our My Super Science Heroes book, Marie Curie and the Power of Per­sistence has been shipped to all of the crowd-funding backers. Thank you very much for your support and patience. Those who haven't had the opportunity to buy the book during the crowdfunding campaign, can now pre-order it on Amazon. This would be of great support for MCAA.
As an international non-profit as­sociation, donation is one of the key resources where we can raise funding for the association. Re­cently, we have started our donation page. Whenever you get the chance, please kindly donate and share it among your networks. Only with your generous contribution, we would be able to reach our goal.
Though we are officially called an Association, in my personal opin­ion, we are a learned community. We are 140 different nationalities with various geographical and cultural backgrounds working in diverse fields towards a common goal. Be it in diplomacy or as the winner of MSCA Falling Walls Lab, MCAA members are contributing towards a better future for our chil­dren. In this commitment, we must strive for better policy. In a turbu­lent world, where evidence based policymaking is not the priority in popular politics, we must strength­en our unity and efforts to actively contribute in the policymaking.
As global volunteer-based organ­isation, our strength lies on the volunteer activity. On behalf of the MCAA Board, I would like to share my gratitude to all Board mem­bers, Chapter and Working Group Chairs and volunteers of Chapters and Working Groups as well as different task forces and support staff for their active contributions to MCAA. I would also like to thank all of our stakeholders including European Commission for their continuous support. I would like to thank all the readers of this mes­sage, and I hope that I was able to convince you to become more ac­tive in MCAA. As you can see from a year's reflection, your work mat­ters. YOU matter!
I hope that you will have a very happy holiday and a great start to the new year.
See you next year in Zagreb!
MOSTAFA MOONIR SHAWRAV
ON BEHALF OF THE MCAA BOARD
T: @MMSHAWRAV