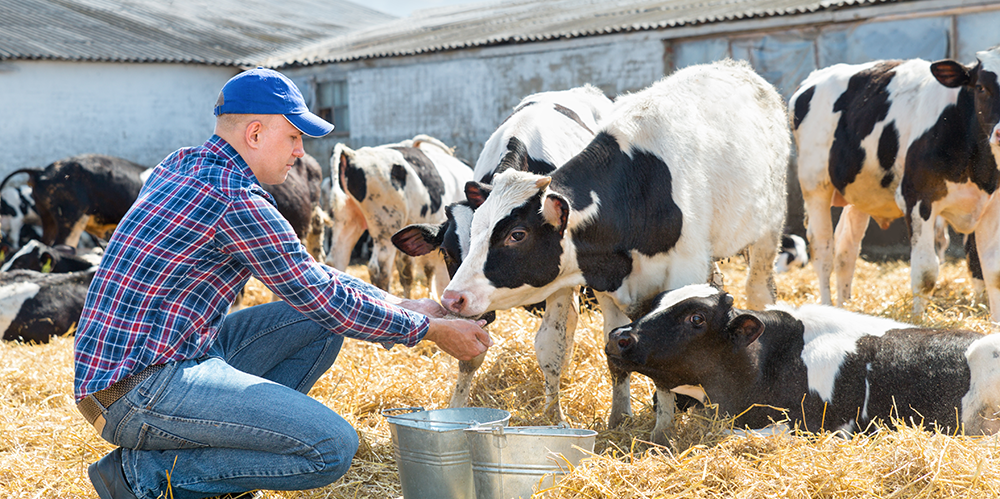 The European Joint Doctorate in Molecular Animal Nutrition, MANNA, is one of the biggest Marie Skłodowska-Curie ITN funded projects. It has 18 leading groups and 11 Early Stage Researchers working together for a common objective.
The European Joint Doctorate in Molecular Animal Nutrition (MAN­NA) is a Marie Skłodowska-Curie Innovative Training Network fund­ed under the European Union's Horizon 2020 research and innova­tion programme (grant agreement n. 765423).
MANNA started on the 1st of Octo­ber 2018 and is designed to estab­lish an EU network whose mission is to provide a double doctorate-level training programme, valid throughout all Europe, on innova­tive technologies applied to animal science and nutrition. MANNA will provide future research leaders with the capability to address the needs to improve livestock health, welfare and efficiency.
PROJECT STRUCTURE
The network connects 18 leading groups from universities, companies and research institutions from 8 dif­ferent European countries that will closely collaborate to achieve the project's objectives. More specific, MANNA is formed by 6 universi­ties (respectively based in Milan, Glasgow, Bonn, Zagreb, Barcelona, and Košice), 9 private companies (AbAgri, Acuvet Biotech, BASF, Evo­nik, Life Diagnostic, RAFT, Nutrition Science, SPRIM, and MetLabs), and 3 public research institutes (INRA, Leibnitz Institute, and Porto Conte Ricerche). This strong con­nection between different groups is fundamental in order to develop an Elite EU school to train 11 Early Stage Researchers (ESR) in OMIC technologies applied to animal sci­ence and nutrition. OMIC technol­ogies are tools for the detection of genes (genomics), messenger RNA (transcriptomics), proteins (proteom­ics), and metabolites (metabolomics) in a specific biological sample (i.e. milk, blood, urine, faeces etc.).
OBJECTIVES
The aims of MANNA are to evalu­ate the influence of innovative feed additives on animal production and to deliver double doctoral degrees to the 11 ESRs. Moreover, the strong connection and interaction of academia, industry, and public institutions in one consortium will allow the ESRs to be trained in an international context that will en­hance their possibility of becoming well-equipped scientists ready for the global workplace.
In order to achieve these goals, each PhD student is guided by two super­visors from academia and one from a company. Each ESR will work on an integrated innovative research project, designed to investigate the effects of various solution: from anti-oxidants, microRNA, exosomes, amino acids, and lipids to plant-derived anti-inflammatory agents in livestock diets that have effects on growth, intestinal health, and sys­temic metabolism. This innovative research will be assessed also by integrating OMIC technologies in both in vivo and in vitro models. The results will be then processed using informatics platforms to build analytic systems based on the IBM-Watson Cognitive Computing platform.
STRENGTH OF THE PROJECT
One of the strengths of this project is the offer of a rich secondment programme involving industry and non-academic research institutes, whose specialised fields of activity include animal nutrition, veterinary diagnostic and clinical research, bioinformatics and professional communication in the agro-food sector. ESRs will be able to receive a complete training which will cover both aspects of animal nutrition and advanced OMIC techniques. All academic and non-academic part­ners will contribute to this training and will reinforce the graduate pro­grammes of each university also by taking part in lectures and sessions during summer schools and work­shops that will take place over the three-year PhD programme.
EARLY STAGE RESEARCHERS
The 11 ESRs selected to join the project come from Italy, Spain, Iran, India, Costa Rica, Philippines, Viet­nam, and Brazil. Their previous ex­pertise spans from animal sciences to biotechnology, from veterinary medicine to biostatistics. Such a di­versified background is fundamen­tal in order to have a multidiscipli­nary and international team be able to tackle various scientific questions under the guidance of the supervi­sory teams. Collaboration is the key, and in the MANNA network it is one of the pillars of the whole project.
COLLABORATION WITH MCAA
MANNA is one of the largest EU projects currently funded via the Marie Skłodowska-Curie ITN pro­gramme. We are honoured to be a part of the MCAA community and wish to share with you further in­sights into the project, through the direct words of the eleven ESRs. Under the coordination of Ruben Riosa, MANNA has created a spe­cific team that will release at least one article in each of the future is­sues of the MCAA Newsletter.
So, get ready to know more about the MANNA network, and keep reading the MCAA Newsletter!

RUBEN RIOSA, EARLY STAGE RESEARCHER (ESR), SCIENTIFIC COPYWRITER AND ESRS COORDINATOR OF THE COMMUNICATION WITHIN THE MANNA NETWORK.
MANNA: OMEGA-6/OMEGA-3 FATTY ACID (FA) RATIO EFFECT ON PIGLET MICROBIOME AND IMMUNITY
Discover the Project number 1 of the MANNA network. You will find out that sow's nutrition is more important than you think.
The European Joint Doctorate in Molecular Animal Nutrition5 is an EU network whose mission is to provide a dou­ble doctorate training programme on innovative technologies applied to animal science and nutrition. Funded by the European Commission within the Marie Skłodowska-Curie Innovative Training Network programme, MANNA is currently training Early Stage Researchers (ESRs).
WHO AM I?
My name is Nguyễn Thị Xuân and I was born in Vietnam, a beautiful and friendly country in Southeast Asia. I graduated from Hanoi University of Agriculture with a bachelor's degree in Animal Sciences and Veterinary Medicine. I obtained my MSc in Animal Sciences from Wageningen University in the Netherlands. I am the ESR of the Project number 1 of the MANNA network, and I am working under the supervision of Prof. Giovanni Savoini (University of Milan), Dr. Richard Burchmore (University of Glasgow) and Dr. Matilde Pinerio (Acuvet - Spain) in the project entitled omega-6/omega-3 Fatty acid ratio effect on piglet microbiome and immunity.
PROJECT OVERVIEW
The omega-6 polyunsaturated fat­ty acids (PUFAs) are precursors of multiple pro-inflammatory mol­ecules, while omega-3 PUFAs are anti-inflammatory and immuno­modulatory compounds, thus, they are beneficial for the reproductive system of the sows. However, the actual requirements and optimal ra­tio between omega-6 and omega-3 PUFAs in the diet of gestating and lactating sows is still argued by the scientific world. Moreover, previous studies did not take into account OMIC techniques (study field in biology ending in -omics such as genomics, proteomics, metabolo­mics, which respectively study the genome, the proteins and the me­tabolites) which are fundamental to better understand the effects of these compounds on the systems biology of animal metabolism.
Brown seaweed (Ascophyllum no­dosum) contains a high content in bioactive compounds (polysac­charides, phlorotannin, etc.) that could act as prebiotics to enhance gastro-intestinal microflora health status and other health-promoting bioactivities such as antioxidant, antitumor, anti-inflammatory, an­tiviral, and antibacterial. Conse­quently, it can be substituted for antibiotics to improve animal per­formance and reduce pathogenic bacteria. However, in recent years, very little data has been published on the effect of this feed supple­mentation on post-weaning piglets and none of them examined prior dietary treatments on sows during gestation and lactation. Therefore, the aims of my study are two-fold. Firstly, to assess the effects of dif­ferent ratios of omega-6:omega-3 PUFAs in sows' diet on sows and their litter performances. Secondly, to study the combined effect of sow diet and seaweed administration to respective post-weaning piglets on their growth response, immunity, proteome, and microbiome6.
MY PROJECT SO FAR
During my first year at the University of Milan, I finished the in vivo trial on the sows and their piglets, obtaining data on sows' reproductive perfor­mance and piglets' growth perfor­mance. I collected various biolog­ical samples (e.g. colostrum, milk, faeces), not only for my project but also for other three ESRs who are performing other related studies, to better understand sows and piglets' metabolic responses to different type of diets. I already did some analyses on fatty acid composition of colostrum and milk samples, and got some results on intestinal mor­phology, to understand if there are some effects of the feed on the di­gestive system. Next year, my study will focus on immune response at the University of Bonn, where we want to understand the effects of the feed on immune system of pig­lets, and I will also focus on pro­teomics analyses at the University of Glasgow to better understand the protein expression when feeding different diets.
HOW CAN BEING PART OF AN MSCA ITN IMPACT ME?
Having a chance to participate in a MSCA ITN such as MANNA will for­ever be a remarkable milestone in my career to deepen the knowledge in animal science and nutrition at the molecular level. Therefore, I will be prepared to address the needs to im­prove livestock health, welfare, and efficiency for the global workplace.
This MSCA ITN has provided me a great opportunity to develop myself in a unique professional environ­ment. I am currently involved in the PhD programmes of both University of Milan and University of Glasgow. Through this collaboration network, I can interact and communicate not only with other ESRs, but also with many other scientific experts in their fields. The in vivo trial on an indus­trial farm in Italy helped me to un­derstand the needs and operations of that station in terms of nutrition and management. Besides that, I acquired several skills regarding the writing of experimental protocol, handling of sows and piglets, sam­pling, and much more. Moreover, the PhD program of MANNA offers many interesting courses and train­ing on animal sciences, veterinary medicine, and OMIC technologies which help me to gradually link an­imal sciences to the multiple possi­bilities of OMIC technologies.
6 Proteome is the entire set of expressed proteins in a cell, tissue or organism at a certain time and under specific conditions, while the microbiome is the genome of all micro-organisms living together in a particular habitat, including bacteria, archaea, fungi, and viruses.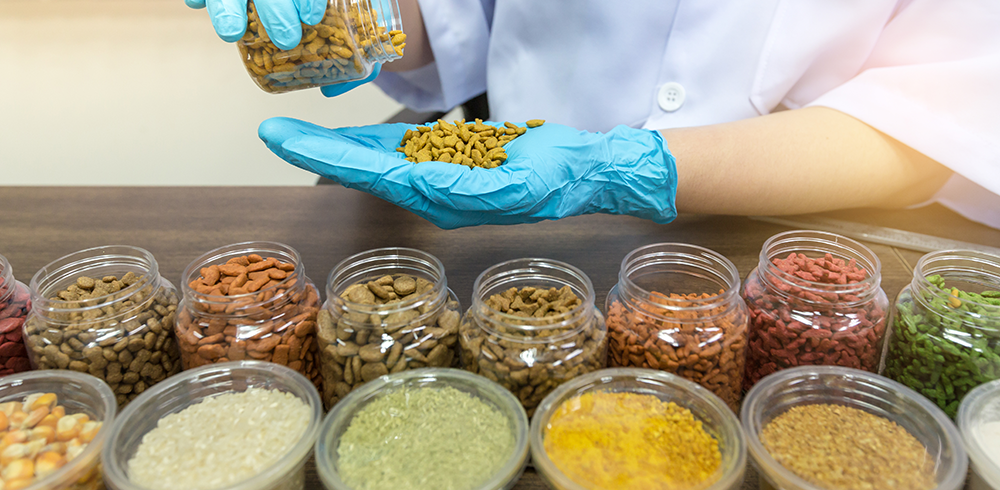 NGUYÊN THI XUÂN, EARLY STAGE RESEARCHER OF THE MANNA PROJECT 1