BENELUX CHAPTER MEETS POLICY WORKING GROUP



Organised jointly by MCAA's Policy Working Group and the Benelux Chapter, the meeting was held as a warm-up in view of the European Research & Innovation days in Brussels. Welcoming 25 participants, it was successful in its aim to discuss the role of science in policy-making. "We even attracted scientists from Groningen (the Netherlands) and Luxembourg," added Esther.
SCIENCE ADVICE FOR POLICY
Esther highlighted the session dealing with Science Advice for Policy by European Academies (SAPEA), which is part of the Eu­ropean Commission's Scientific Advice Mechanism. Its role is to provide independent scientific ad­vice to European Commissioners to support their decision-making.
"Tony Wardam explained how SAPEA is providing independent, highest-quality policy advice to the European Commission within a short period of time," she said. "A lively discussion followed on how SAPEA is assessing the impact of their advice, how to avoid conflicts of interests and how the current sys­tem could be improved."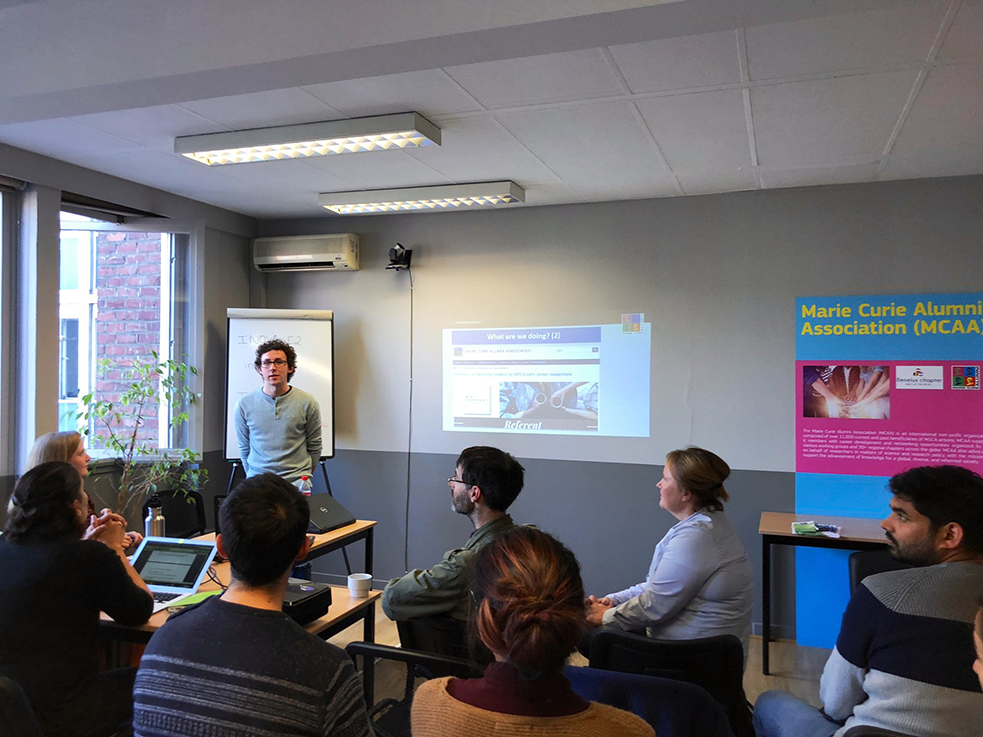 In turn, Mattias Björnmalm present­ed a session dealing mainly with his personal history, going from research to research policy to en­courage the participants to take action. Mattias is an advisor for Re­search & Innovation at CESAER; he is also Vice Chair of Policy for the Marie Curie Alumni Associa­tion, and editor for the science & policy journal Angle.
"Research policy is the engagement between science and research, on one side, and decision-makers, on the other," he explained. "The idea is to encourage people to get more in­volved in policy and to show exam­ples of how this can be achieved."
To encourage participants to be­come more involved in policy, Mat­tias stressed the following:
Decisions are made by those who show up
Policy is not solely for the elusive policymaker
To get involved, follow the discussion, take initiative
"The conversation is continuously ongoing. And then, I encourage anyone who is interested to take initiative," explained Mattias.
WHY LOCAL IS KEY
For Mattias, the best level to in­itiate engagement in policy as a researcher is the local level. "It is more fun when you can meet peo­ple on a regular basis and then from there you can build more up to national or European level. A good thing with the Marie Curie Alumni Association is that we have of course chapters in many regions and countries across Europe."
AN EXPERIENCE TO BE REPEATED
For Esther, the event was a suc­cess. "We received a very positive feedback from our participants," she said. "We will strive to organise similar joint events in the future."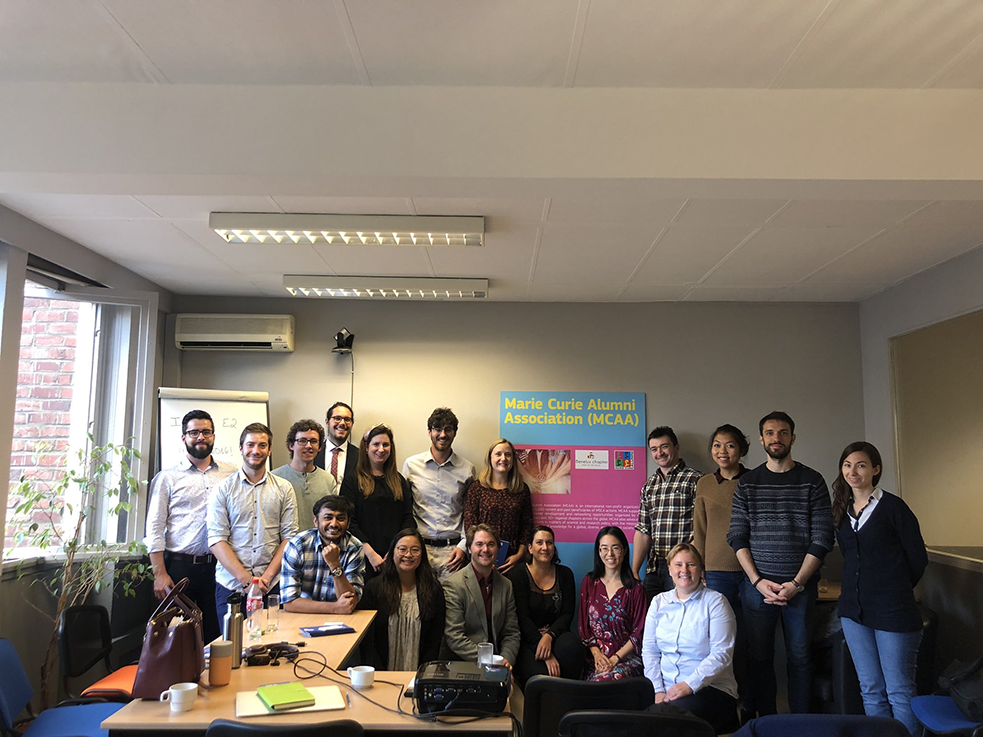 INTERESTED?
Contact the Benelux Chapter:
benelux.chapter@mariecuriealumni.eu 
Visit the page of the Policy Working Group
THE ROMANIAN CHAPTER TO TAP INTO MCAA'S HUMAN POTENTIAL

Andrada Lazea-Stoyanova, in her own words
I am Romanian. I have a PhD in Physics. I am a researcher by profession. I was an early-stage researcher in 2006‒2009 within the Marie Curie project titled Diamond Research on Interfaces for Versatile Electronics (DRIVE). Currently, I work as a researcher in plasma physics at a national institute based in Magurele, Romania.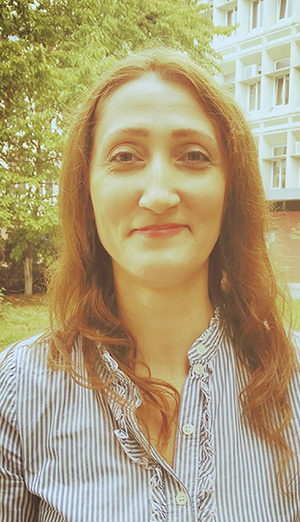 POTENTIAL
The main reason Andrada applied as the Chair of the Romanian Chapter was to boost membership engagement levels. For Andrada, it is important to offer a safe space, some­where members can discuss a variety of topics important for research.
"I set as a second goal the creation of an environment where we can openly discuss our meeting and main points that are not addressed openly nowadays, such as ethics, mobbing and corruption in research and other sensitive subjects identi­fied by the Chapter members, and to find ways to tackle these together as a group rather than as individu­als," she explains.
MEMBERS
The Romanian Chapter counts 50 members. This number is expected to grow. For instance, Andrada aims to have 10% more participants in 2020. "Even though most of them are based outside Romania, we can find ways to meet, like via online video calls," adds Andrada.
MEETING
Members had the opportunity to meet on 26 September. "This meet­ing was the first of its kind since the formation of the Romanian Chap­ter in 2016," explains Andrada. The members elected Andrea Matei as the Vice Chair of the Chapter, and voted the Chapter's rules, such as:
Allowing non-members to par­ticipate in meetings as invited experts/public
Budget reallocation towards career development courses/ trainings
"Overall it was a quite fruitful meet­ing," adds Andrada.
JOIN!
Andrada says she wants to in­crease membership to the Chapter. "The Romanian Chapter provides a platform to discuss openly and take action upon the main points which researchers are facing, start­ing from research-funding policies and up to non-compliant practices.
"Please join our Chapter and let's contribute together to leverage our diverse skills and experiences to a more effective national research environment," she concludes.
INTERESTED?
Contact the Romanian Chapter romania.chapter@mariecuriealumni.eu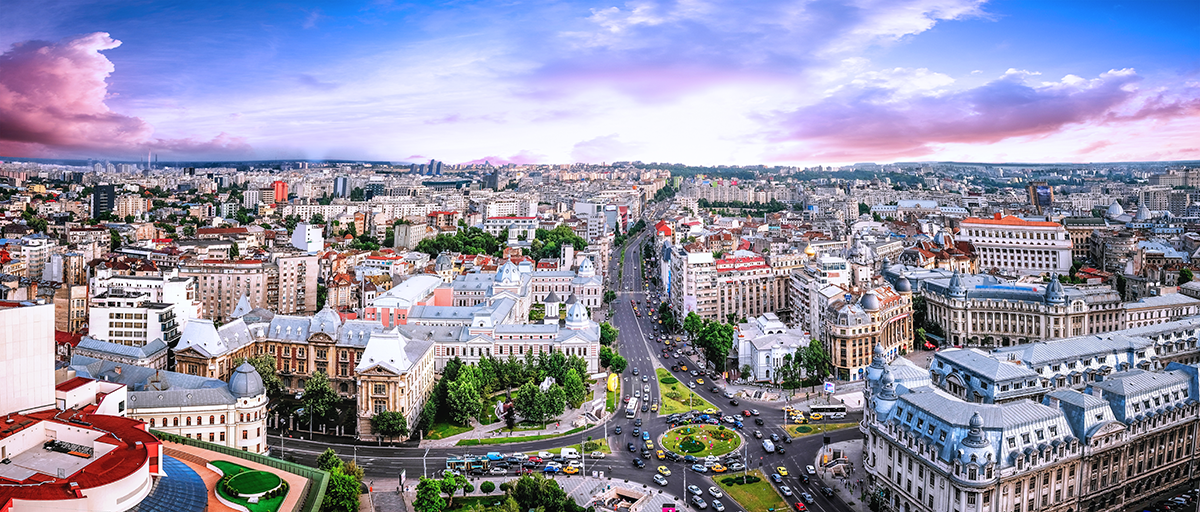 LOOK WHO'S CHAIRING THE SWISS CHAPTER

Veronika Stolbova
I am from Kamchatka peninsula in the Russian Far East – a place where volcanos, snow and the Pacific Ocean meet. I conduct research in the fields of climate finance, sustainable finance, macroeconomics, financial networks, systemic risk and early warning indicators. I was awarded my master's in Physics (Moscow), researching the impact of antiarrhythmic drugs on the heart cells. I then earned a PhD in Physics with the Learning about Interacting Networks in Climate (LINC), a Marie-Curie Innovative Training Network (ITN) project focused on climate networks and forecasting of the timing of the Indian monsoon (Berlin). Working on the forecasting of the Indian monsoon under climate change encouraged my interest in the assessment of the economic and financial impacts of climate change. It brought me to Zurich, Switzerland, where I currently conduct research and teach master's and PhD students about financial impacts of climate change at ETH Zurich. Find out more information about me.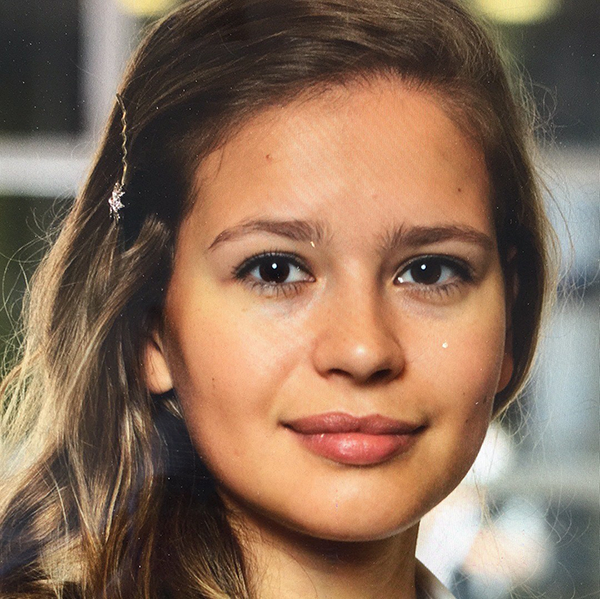 ON BECOMING A CHAIR
Veronika joined the MCAA after she conducted research for her Marie Curie project. "It gave me so many opportunities, extended my professional and personal hori­zons, and brought me to six coun­tries within three years," she said. "As a result, I wanted to stay a part of this inspiring community."
When she met a former Swiss Chap­ter Chair, Renaud Jolivet, at one of the meetings organised by the Chap­ter, she decided to become more in­volved in the organisation of events for the attention of MCAA members and representatives from funding agencies and foundations, universi­ties, industrial companies, and start-ups. This was the turning point. It is the moment Veronika decided to run for the position of Swiss Chapter Chair.
MAIN GOALS
The Swiss Chapter's activities aim to disseminate information about MCAA activities within Chapters and Working groups. The goal is also to attract MCAA alumni to join the Chapter and provide an incen­tive to participate in the Chapter's activities. As such, efforts are made to provide members information about funding possibilities in Swit­zerland and neighbouring countries.
Just as important is to provide members with soft-skills training to guide them through their career in research. Expanding the knowl­edge of members on alternative career paths in industry is also a top priority. Emphasis is also put on building a spirit of innovation and entrepreneurship in members interested in bringing their research ideas and results to market.
"Overall, we encourage research­ers to become a part of an inter­esting community, to share their knowledge and expertise, and to find peers and like-minded friends in a new country," added Veronika.
GROWING MEMBERSHIP
The Chapter currently counts 78. "The majority of our members (73 %) reside in Switzerland, but we also have members who were associat­ed with Switzerland at some point of their research career," explained Veronika.
FROM FAILURE TO SUCCESS, FROM BOREDOM TO INNOVATION
Together with Mohammad Rezaei, who chairs the Austrian Chapter, Veronika co-organised the "Failed & Bored" conference that was held in Austria on 28 September 2019.
Some 30 participants from around Europe (Switzerland, Austria, Mona­co, Italy, Spain and the UK) attended.
Melanie Stefan – author of the fa­mous Nature article A CV of failures – delivered the keynote speech. This was followed by an inspiring talk by Brunella Balzano on "Hunt­ing the errors."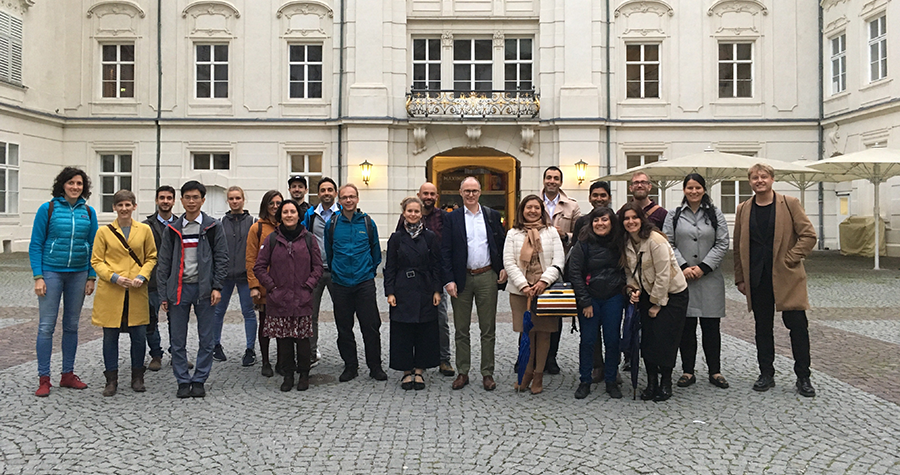 Other speakers included Celia Arroyo, who authored "Coming out of the closet of bullying", and "Developing Mental Toughness" by Matt Lanfear.
"A number of students, early-stage researchers and postdocs, as well as start-up founders joined the event as well," said Veronika.
According to Veronika, one major take-away from the event is the fact that mobility, funding, career prospects, mental health and resil­ience are all elements that should be considered as part of research, and not only the daily work itself. "In order to have good research it is important for the researchers to feel good," she explained.
What's more, the format of the conference (30 people) created a special atmosphere and led to an interactive and engaging discus­sion. "This event exceeded my ex­pectations!" she said.
TIPS TO ORGANISE YOUR OWN EVENT
Based on her experience, Veron­ika shared a few tips for members willing to organise their own events within the framework of the MCAA:
• Start working on it at least six months in advance – to ensure all plans and logistics issues are resolved in time;
• Identify your target audience & location – the success of the event depends on it;
• Discuss your plans with the Board of MCAA – you can receive a lot of help and support;
• Be bold and don't be afraid to ask for help!
"Special thanks to the member of the Austrian Chapter – Patrick Quoika – who volunteered and took a large part of local organisa­tion for the Failed & Bored Confer­ence on himself! Additional thanks to Magdalini Theodoridou and Carolina Reyes for their support in the organisation of the confer­ence!" concluded Veronika.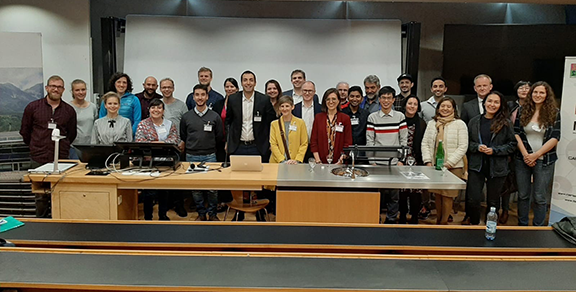 INSPIRED?
Join the Swiss Chapter, send a message to
swiss.Chapter@mariecuriealumni.eu