Latest news from the MCAA Chapters - The South Asia Chapter attended the Pak- China Business Forum 2015
The South Asia Chapter had the opportunity to attend the Pak-China Business Forum 2015 and to represent the MCAA. Find out what they learnt during this exciting event!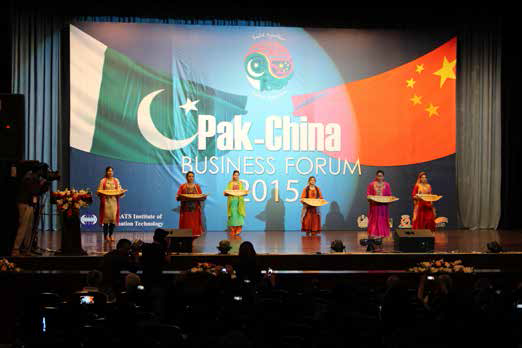 About the event
The PAK-CHINA Business Forum took place from 27 to 30 March 2015 in Islamabad, Pakistan.
This event provided a platform for interaction between Chinese and Pakistani entrepreneurs and businessmen and women. Participants could attend workshops on:
renewable energy technologies;
new energy technologies;
information & communication technologies (ICT);
water conservation, purification & sanitation;
biomedical materials.
MCAA South Asia Chapter at the forum
Muhammad Khurram Bhatti (Chair) and Ishtiaq Ali launched the 2015 promotion campaign for the South Asia Chapter by representing the MCAA at this special event. Their stand helped them raise the association's visibility.
According to Bhatti, the Chapter's participation was very positive: "Visitors from academia and industry both equally appreciated our effort to educate the audience about the objectives of MCAA and, in general, also about MSCA programmes for potential beneficiaries".
Following their participation, our Members have been invited by two universities to give presentations informing students about the MCAA benefits and actions. We are looking forward to reading their feedback on the MCAA website!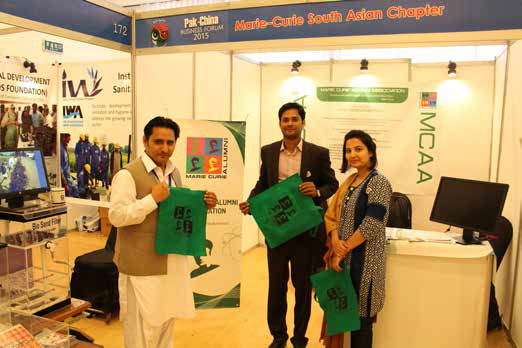 Latest news from the MCAA Chapters - Career Choices Seminar held by the MCAA German Chapter
Mark this date in your agenda: the German Chapter is organising a Career Choice seminar on 10 June at the Technische Universität in Darmstadt, Germany.
Why should I attend this event? If you are currently wondering what you will do after you Ph.D or Postdoc, the following speakers may provide you with tips and ideas:
Anjana Bückow from the Deutsche Forschungsmeinschaft (DFG) will explain how to write a DFG proposal, focusing in particular on the Emmy Noether Programme which helps researchers achieve independence at an early stage of their scientific career;
Alexander Damaschun will present the EXIST programme of the Federal Ministry of Economics and Energy which supports recent graduates as they develop a business idea in cooperation with universities and research institutions;
Zoran Andjelic, Ordinary Board Member of the MCAA, will explain his experience of moving from academia to industry.
Other topics are also on the agenda:
Publishing: an editorial perspective,
Constructive Communication – by Natalia Balcazar,
Mrs. Liselotte Wurster of Persaldo Steuerberatung will detail how to make a tax declaration and reclaim mobility-relevant tax refunds in the German tax system.
The MCAA German Chapter's activities – by Brian Cahill (Chair).
I am not German and I don't live in Germany, can I participate?
Of course! Be aware that some of the talks will target those residing in Germany, but you might be interested by many of the other presentations.
How do I register?
Registration is open. Just send a short e-mail to german.chapter@mariecuriealumni.eu
A small participation fee of €20 is necessary to cover catering costs.
More information:
https://www.mariecuriealumni.eu/posts/career-choices-seminar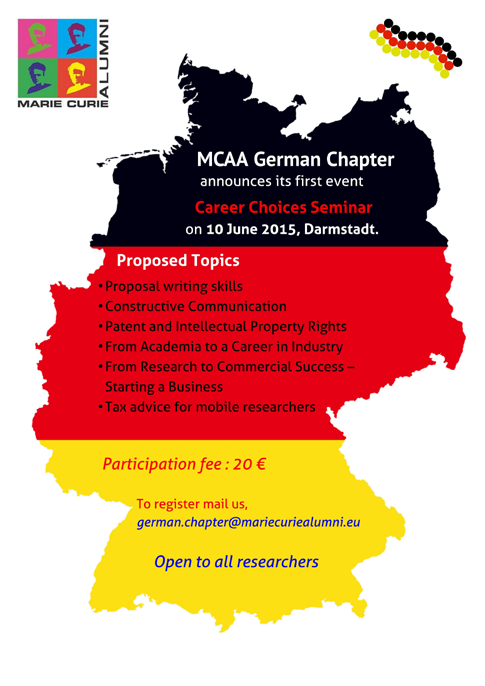 Latest news from the MCAA Working Groups - First meeting for the Climate Change working Group
The Climate Change Working Group held its first meeting on 27 March. If you want to know what happened, read Riccardo Biondi's account of the key points discussed.
Why a Climate Change Working Group?
The Climate Change Working Group is completely unofficial since the MCAA does not allow thematic Working Groups. However, the topic is multi and inter-disciplinary and many researchers are interested in it, especially as so many policies from the last two decades have stemmed from climate change and global warming.
The story so far…
I launched the idea of this WG last year with the objective of creating a group within the MCAA, strong enough to submit a proposal at EU level. For some EU calls, participants' CVs have a high impact on the evaluation of proposals. Being an all MC Alumnus could give an added value to a proposal. The WG wasn´t very active for a while – it is hard to discuss when you do not yet have a critical number of active members and it is especially hard to prepare a proposal talking to people who have never met before and who have no possibility to meet face-to-face.
At the last General Assembly, I met Luigi Caranti (Chair of Sicily Chapter and member of the Climate Change WG) and over a glass of wine, we decided to re-launch the WG, organising a joint meeting with the Sicily Chapter.
What happened at the first meeting
We did not know how many people would be interested, but surprisingly there were 10 persons participating in the meeting (mostly on Skype) and many others interested, but not able to attend the meeting that day. There are currently about 20 people interested in the WG, from eight countries. All are especially interested in the coming proposal, the number is increasing day by day. Their expertise covers a wide spectrum of areas, from atmospheric physics to philosophy, from archeology to mathematics, from dendrology to volcanology. Climate Change is a very broad topic and is regularly debated, and this makes the subject intriguing.
The Climate Change working Group needs you!
At the meeting we mainly discussed how to organise our collaboration, since it is impossible to meet, and what EU call to respond to. The proposed options were COST Action, Marie Curie ITN or EU Cooperation project. After a long discussion on the procedures and type of collaboration we want to establish, we decided that the Marie Curie ITN would be the most appropriate call for us, giving value to our CVs, giving importance to the fact that we are already MCA and providing funding simultaneously for research and networking. We are now studying the call documentation, collecting CVs and ideas and thinking about how to connect all the different fields into a meaningful proposal. The MC-ITN call should open in a few months and we would like to be ready with a good draft at that point. Everybody interested in the project is very welcome to contribute.