Daniel Powell is originally from the United States, but spent a few years in Canada before moving to the United Kingdom to work on his Marie Curie project. If you could be interested in following in his footsteps, take a look at his impressions and advice, especially if you come from the USA!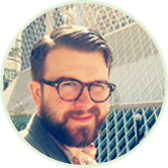 Thanks to his Marie Curie Action (Initial Training Network), Powell works as an Early Stage Researcher on a project which aims to understand social editing and how digital technologies are changing the ways we produce, re-use, and disseminate knowledge in collaborative ways. "I study projects like Wikipedia, Stack Overflow, collaborative authorship platforms, and so on. Basically I research the intersection of social media / digital connectivity platforms and the production of scholarly knowledge," he explains.
For the past year, he has been based at King's College London, together with 11 other Early Stage Researchers. His project will run for two more years.
Visa, administration and exchange rate
"As a non-EUnational and a non-UK citizen, I had to provide a great deal of documentation, paperwork, and money to eventually enter and work in the UK," says our Fellow. To obtain his Tier 2 Skilled Migrants General Visa, Powell had to be sponsored by his host institution, which had to send a separate letter of sponsorship to the UK Border Force. "The visa process was quite arduous for the UK. It ended up costing about £3 500 – £4 000, although much of that was (I later found out) able to be reimbursed by the ITN that I am part of. That was welcome!" He adds.
Powell highlights the British border controls: "I had to provide fingerprint scans on application for my visa, and have to get scanned every time I re-enter the country."
In addition, our Fellow had to provide bank statements illustrating that he had a set amount of funds to cover around three months of expenses.
He describes the exchange rate as also pretty high: "If you are coming from the US or Canada, be prepared for complete sticker shock at the exchange rate of the British Pound Sterling, as well as the costs that come with applying for visas."
Freedom in research
When he started working on his project, Powell was struck by the difference in levels of supervision between the UK and the USA/Canada "PhD training in the humanities and social sciences usually involves coursework, set reading lists that you are then tested on ('comprehensive exams'), a dissertation prospectus, as well as multiple second and third language tests." Nevertheless, he enjoys this freedom and decides for himself how to conduct his research.
A vibrant research culture and a central location
To Powell, being in London to work on his Marie Curie project offers a lot of advantages: "There is a vibrant research culture here, involving many of the institutions that are part of the University of London, including King's, University College London, Birkbeck, Queen Mary, etc." He highlights the diversity of events, symposia and workshops that he could attend.
What's more, there are many opportunities to network in neighbouring cities, like Oxford and Cambridge, and also beyond the UK's borders. "Our ITN holds training and research-sharing events throughout Europe, as we have partners in around a dozen EU nations, and getting there is always easy!" he adds.
General feeling before the referendum about EU
Powell stresses the difficulty of re-entering the UK when he has to attend external meetings or workshops: "I have to pass through Border Force screening on the way back into the country, which wears thin!".
According to our Fellow, continuing as a researcher benefiting from EU funds could be tricky in the future due to the current political situation: "It is also distressing to know that the UK is holding a referendum to exit the EU next year (two years into my three years of EU funded research!)."
Come to the UK and to London!
Powell is happy to conduct research in London, mainly because of the density of academic and intellectual activity: "I regularly work in the British Library, have access to the entire University of London library & research system, and can easily travel elsewhere as needed." Nevertheless, he describes other places as attractive for researchers, like Oxford and Cambridge, as well as Edinburgh and the northern English cities like Sheffield and Liverpool. 
He admits thought that it would be hard for him to leave for anywhere else in the UK!