Newsletter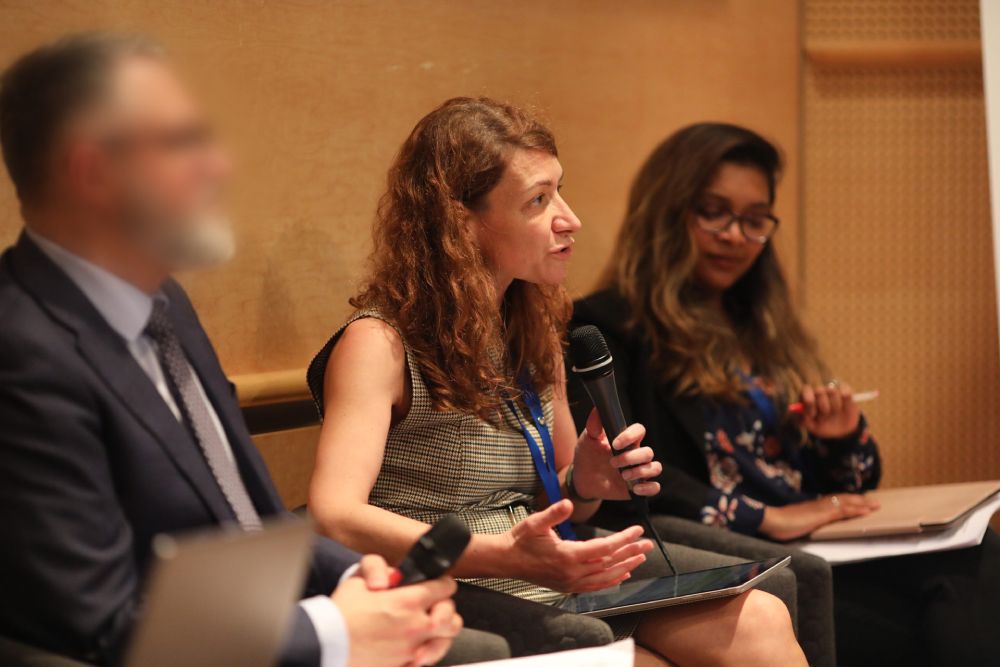 Workshop 2 - Global solidarity in higher education and research: supporting academic freedom and researchers at risk
In 2022, the annual conference of the Marie Skłodowska-Curie Actions programme was held on 23-24 of May in Paris. Fernanda Bajanca, chair of the MCAA, was the rapporteur for workshop 2 on academic freedom. Here she summarizes the main takeaways.
The session started with a welcoming address by Laura Lohéac, Executive Director of PAUSE Program, which since 2017 enables scientists and artists in exile to be hosted in higher education and/or research institutions and cultural institutions in France, and assist them in their professional integration.
The keynote speaker Laurent Bonnefoy, researcher at CERI Science Po Paris and member of Fariba's Adelkhah support committee, talked about academic freedom as a fundamental democratic value whose violations not only harm the scientific community but also ultimately affect social and economic development and the quality of public debate.
He raised several important points:

- Academics are being arrested in many parts of the word for expressing their opinions and are used as trading tools to negotiate with western countries;

- Also, some states using surveillance and control tools increasingly (examples mentioned in Iran, Emirates, Egypt, China, several Middle East countries);

- Raised the issue that European states also provide resources used to repress academics, not only weapons but materials that are used to control what is published, or police materials. This should be addressed;

- Another issue is that academics working on certain disciplines are targeted even in countries that would not be seen as problematic (Israel, US), e.g. researchers that make field work and travel regularly to certain countries experience increased screening at the border control when traveling;

- So, it's important that western countries work on improving scientific culture and trust researchers;

- Finally, he raised the issue of lack of funding to work on academic freedom.
Two beneficiaries of the PAUSE program shared their perspectives on the difficulties encountered due to their particular situation. These were Farkhad Alimukhamedov and Refet Ali Yalcin. For both, the support received through researchers at risk funding was a life saver. Both insist on the point that while emergency funding is more than welcome, researchers at risk want to integrate in the system as any other researcher and not occupy forever the targeted support that may be more urgent for others. Integration is essential also outside the academic sector. Nationality can create barriers to integration as suspicions are very often not dropped by their exiled status. Due to their situation, researchers at risk tend to work even harder, undeniably contributing to host countries. Therefore, researchers at risk call for practical solutions for long term integration.
- Inspireurope coordinator Joel Hanisek presented this project, whose main objectives are to:
- Improve career development opportunities for researchers at risk;
- Prepare the work environment to receive researchers at risk (e.g. Training and guidance for employers in non-academic sectors);
- Grow the diversity of actors supporting researchers at risk, in particular in Central, Eastern and Southern Europe, and inclusion of business/industry in outreach efforts.
Alexandros Triantafyllidis, from Greece Scholars At Risk Section, reported on local implementation difficulties to support researchers at risk and the importance of the support from the international cooperation projects. The main problem is funding. Administrative issues to integrate researchers at risk in universities. Advocacy being done to gather support, the Ukraine situation is contributing to raising awareness and lifting certain barriers for researchers at risk. He calls for each of us to pressure our rectors.
Michael Gaebal, Director of European University Association, reported on a survey by EUA and Inspireurope on the status of researchers at risk, from researchers' perspectives as well as institutions'. The main results were positive, several programs are dedicated to researchers at risk, but the demand for placements is above offer, due lack of funding. Inspireurope policy recommendations are available online, of which I will underline:
- need to acknowledge and support researchers at risk;
- what governments should do: need for funding (not only targeted programs but also access for researchers at risk to existing programs), promote integration.

A good example is the creation of MSCA4Ukraine and the effort made to adapt the European requirements to this special situation: supporting doctoral and post-doctoral candidates; Ukraine nationals or residing in Ukraine; academy or non-academic sector; supporting when it's safe to go back.
But a permanent and inclusive program is necessary, not only for Ukrainian academics at risk, This means that funding is important but also awareness, empowerment, impact in changing practices in the whole Europe.
The defense of academic freedom and the protection of researchers at risk in Europe since the outbreak of the war in Ukraine was intensely discussed. Laura Loheac, Executive Director of PAUSE Program, talked about the defense of academic freedom and the protection of researchers at risk in Europe since the outbreak of the war in Ukraine. Efforts were widespread, from ScienceForUkraine, a community group of volunteer students and research scientists from academic institutions in Europe and around the world, to national responses like the French program for Ukraine and European programs like MSCA4Ukraine. While the Ukrainian war raised awareness and increased interest in supporting researchers at risk, the momentum has to be profited from, efforts are also required to support researchers elsewhere.
The conclusion is that we need to implement permanent and inclusive policies to make Europe a heaven for academic freedom and all academics at risk.
Fernanda Bajanca
MCAA Chair
fernanda.bajanca@mariecuriealumni.eu