Newsletter
In 2022, the annual conference of the Marie Skłodowska-Curie Actions programme was held on 23-24 of May in Paris. Corinne Portioli, Board member of the MCAA, reports on workshop 1 which focused on gender equality.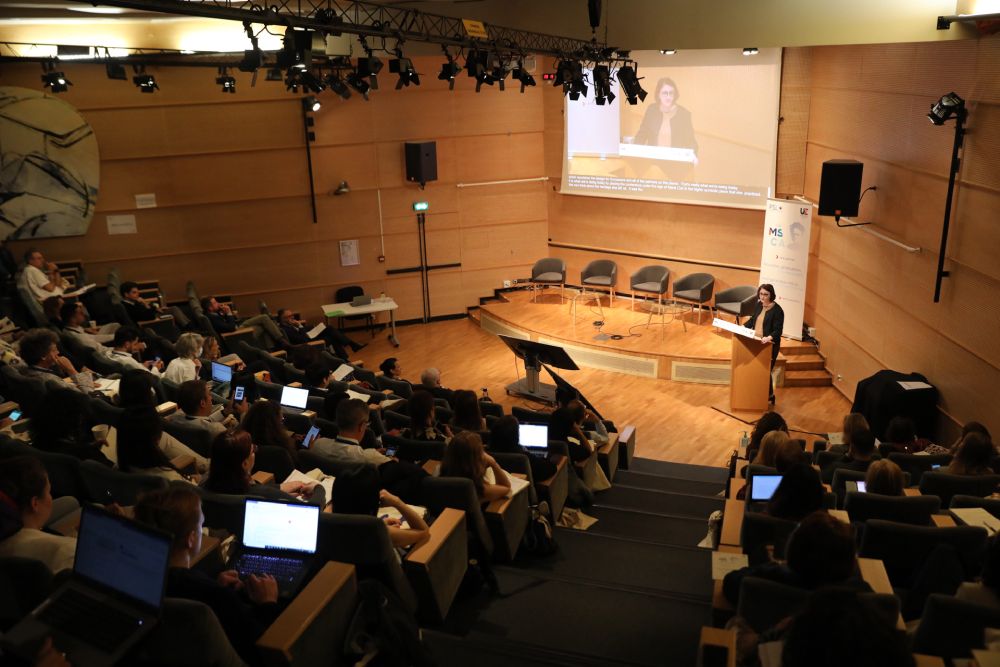 Workshop 1 - Supporting gender equality with and within MSCA: Closing the gender gap in research and supporting the career development of female researchers
As a current Marie Skłodowska-Curie Actions (MSCA)-COFUND fellow and recently elected ordinary board member of the Marie Curie Alumni Association (MCAA), it has been a pleasure to introduce and moderate the workshop on supporting gender equality with and within MSCA, at the last MSCA Conference, held in Paris on 23-24 of May, 2022. The workshop aimed to address a major challenge: closing the gender gap in research and science, working on equal opportunities in career development for both women and men. MSCA is focused on promoting gender equality and equal opportunities for its fellows, such as in transparent recruitment, quality employment and working conditions for researchers, part-time work, parental leave, etc.
Ideas, thoughts and experiences of 6 speakers, involved in private and public institutions, were shared to encourage gender equality in research careers and to promote participation in innovation and entrepreneurship, both at an institutional level and at a private level. Some recommendations that could be implemented in further actions to foster gender equality were also a take home message from the speakers. Many topics still need a tangible answer, for e.g. which actions can be pursued to close the gender gap in research, how can MSCA inspire other programs and move the issue forward, how can we ensure inclusion within the research experiments themselves.
An overview of the European Commission (EC)'s actions to promote gender equality and diversity in research and innovation was given by Gerard Bros Perez, policy officer in the MSCA unit, Directorate-General for Education, Youth, Sport and Culture. Gender equality is a central value for the EC which aims to combine research and innovation in general, but also justice. Over the past decades the EU has made great progress in gender equality, in fact, 48% of the graduate students are women, and they are more successful. However, women occupy only 26% of top academic positions if we consider all research fields. For Horizon Europe, Gerard said, since the EC is for a gender equal culture, it is promoting changes, such as the introduction of the gender equality plan and is working on fixing systemic problems and promoting institutional changing mindsets where all researchers are welcome and have equal opportunities for research and career progression.
The round table opened with the discussion on how to encourage gender equality in research careers and what examples of good practices could be implemented in coming actions. Thomas Breda, Junior Researcher, CNRS and associate professor at the Paris School of Economics with experience in gender segregation across fields of study, jobs and careers, opened the talk by discussing discrimination related to abilities, supply and side, underlining no changing trend in the past 30 years for females in STEM, regarding the increase of underrepresented females in these fields. Michela Bello, Socio-Economic Analyst at the EC, Joint Research Centre, Ispra, Italy, contributed to the talk by underlying some aspects around the under-representation of women in Science, Technology and Innovation (STI) to be tackled by policy actions. For example, under-representation of women in fields with gender disparities and stereotypes, work conditions for researchers, career development success, gender disparity in salary, and the gender blindness in STI. Dorthe Nickel, European and international affairs director of the research center at Institut Curie, followed the discussion giving some updates of the new gender equality plan, where in the last 3 yearshas been observed more females PhDs and postdocs but it's not the same in the director unit, therefore a decision panel with more women in would be crucial. Luciana Ayciriex, Senior Consultant in Innovation Management INMARK followed with the GENDER STI relevant findings, on the best practices on gender approach in the world, gender issues in bilateral and multilateral STI agreements, survey on gender equality implementation, approaches to improve gender equality in careers at all levels.


Another important point raised during the discussion was related to understanding the way to favor participation in innovation and entrepreneurship. Maria Fatima Lucas, co-founder & CEO at ZYMVO, a biotech startup specialized in enzyme design and development through computer simulations, gave feedback as an entrepreneurial woman. Based on her experience, always surrounded by men, at first she did not receive discrimination, but in 5 years in her previous companies, maybe she has seen just 10 women in a decision-making role.
This is clear enough! She is the 2020 winner of the EU Prize for Women Innovators, and receiving that kind of price, Maria Fatima added, is still important, because last year in the EU only 1% of female entrepreneurs received venture capital funds. She also suggested two keys that open the right doors: education and quotas. In terms of education, it is important to have support and mentorship starting at a young age to build confidence and ability to approach high-risk innovation projects. Quotas are the second key, and she advised that companies with diversified teams are keener to success. Following this comment, Luciana said that from the survey she got relevant findings on approaches to improve gender balance in decision-making and the integration of the gender dimension in R&I content and the figure of prototypes related to gender equality in decision-making process. She raised a question on the impact that mobility, highly promoted by MSCA, is a challenge for females that are normally struggling because of family reasons.
MCAA through the Genders, Equity, Diversity & Inclusion (GEDI) Working Group (WG), the former Gender Equality and Diversity for Mobile Researchers in Science WG, has been active since 2014. The main aim of the WG, in fact, is to go from enhancing the inclusion of women in research to promoting equity, diversity, and inclusion in research beyond any individual characteristic. Here it is important to underline the upgrade of the equality to the equity concept, to investigate challenges and develop possible solutions in order to also boost diversity and inclusion at all research career stages – from early stages towards leadership levels. Another goal is to ensure that MCAA itself stands for and implements fair treatment of any underrepresented group in all activities that are organized. GEDI WG, to reach a broader audience and engage more people, organizes several workshops, seminars, and conference sessions in collaboration with several organizations that share the same visions, to participate in the debate for equal opportunities in career development and for a healthier work-life balance.
Corinne Portioli
MCAA Board Member
corinne.portioli@mariecuriealumni.eu
Twitter: @corinneportioli