Newsletter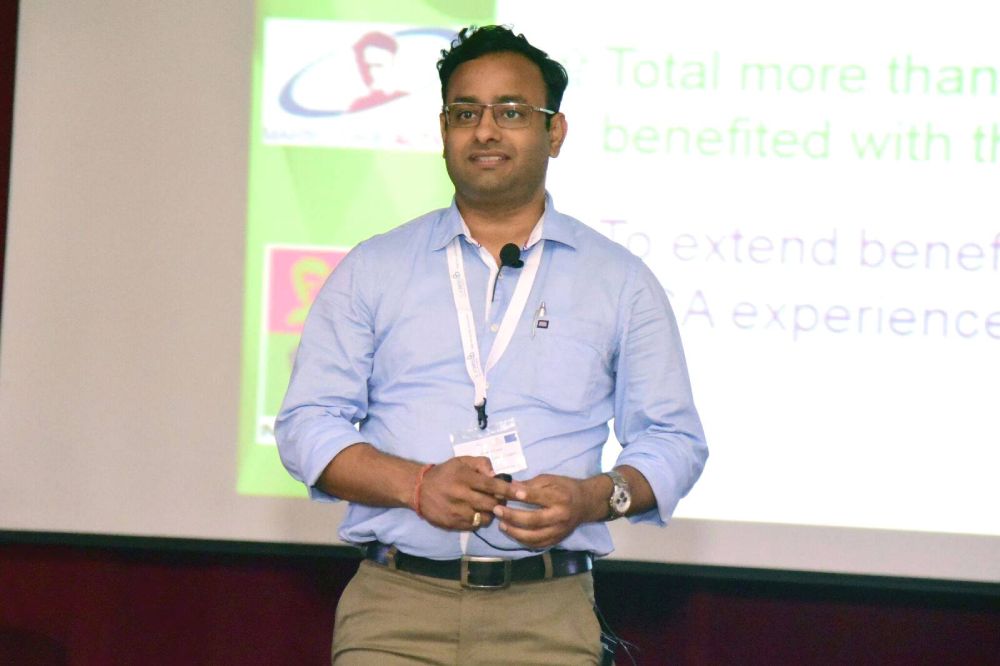 Praveen Kumar,

a personal account

I am an Assistant Professor at the Indian Association for the Cultivation of Sciences (IACS) in Kolkata, India. I did my PhD at the Department of Physics of the Indian Institute of Technology, followed by a postdoctoral research as Marie Curie Fellow at ISOM, UPM Madrid, Spain.
I served as a Chair of the MCAA Indian Chapter (2017-2021). I am a recipient of several awards and fellowships. My research contribution covers a broad spectrum of materials science, including III-V semiconductors, 2D-materials, MXenes, carbon nanostructures, etc., for various energy harvesting (PEC water splitting, CO2 reduction, broadband photodetectors) & storage (supercapacitors) applications.
Praveen Kumar, the new Chair of the Working Group, tells us about the group's future plans.
Why did you decide to run as Chair of the Career Development Working Group?
I have been an active member of MCAA for more than a decade. I was the chair of the Indian Chapter from May 2017 to August 2021. When I took charge of the Indian Chapter in May 2017, it was inactive, with only 28 members. One of my goals then was to make the chapter grow and function actively. With my administrative experience, the Indian Chapter is now one of the most active and fifth largest chapters of MCAA, with 375 members.
At the same time, I was/am also an active member of several MCAA working groups (WGs), and Career Development is one of them. Career Development WG has a lot of potential for disseminating the information and mandate of MCAA. With my administrative experience as the chair of MCAA's Indian Chapter and as an established researcher, along with a few editorial experiences, I decided to take the responsibility of Career Development WG's chair to bring new changes in the WG for the benefit of more MCAA members.
What will be the objectives of the Career Development Working Group under your tenure?
The main objectives of the Career Development WG are as follows:
- To identify the main areas of interest for MCAA members concerning career development;
- To organize the webinars/survey among MCAA members to understand their concerns for career development and plan follow-up events;
- To organize two flagship events of Career Development WG along with academia and Industries participation;
- To organize expert talks/webinars/workshops for career guidance, project writing, CV development, professional advancement, and job opportunities for MCAA members;
- To organize a series of webinars and interactions by professional experts on mental health, communicate best practices, how to deal with work pressure and how to balance personal & professional life;
- To arrange a few networking events with established and early-stage career MCAA members.
What are your plans for the development of the Career Development Working Group? Can you tell us some?
The first and immediate plan is to popularize this WG among the MCAA members to increase active participation. Then, as per the mandate, I will build an active team for organizing the planned events mentioned in the objectives, like having at least two flagship events that attract participation from many MCAA members. Furthermore, we plan to conduct multiple talks/webinars/workshops on various career and professional development aspects.
What is the role of the Career Development Working Group within the MCAA community?
As MCAA has vast expertise, few members are already well experienced in their careers. However, many MCAA members are yet to decide on their future careers and are struggling with their settlement. This WG will utilize the expertise of our settled MCAA members and outsource several experts through our WG activities, to motivate and guide our MCAA members who are looking for proper guidance to settle down.
How will you cooperate with other Chapters and Working Groups?
All the chapter chairs and WGs chairs will have an essential role in the planning, dissemination and participation of the proposed events of the career development WG. I will have a close association with all the chapters/WGs chairs. This group will be open to all MCAA members and will always welcome suggestions for improving this WG and MCAA as a whole.
What would you say to members considering joining the Career Development Working Group?
I welcome all the MCAA members to join our Career Development WG. Together we can make a difference as far as career-related issues are concerned. The experienced members can utilize this platform as an expert, and the early stage researcher can use this opportunity to get the right direction for their future career development.
Pradeep Eranti
MCAA Newsletter, Editorial Board
Twitter: @pradeeperanti