Newsletter
An independent and objective tool to evaluate how effectively an institution takes care of academic mental health and what can be improved.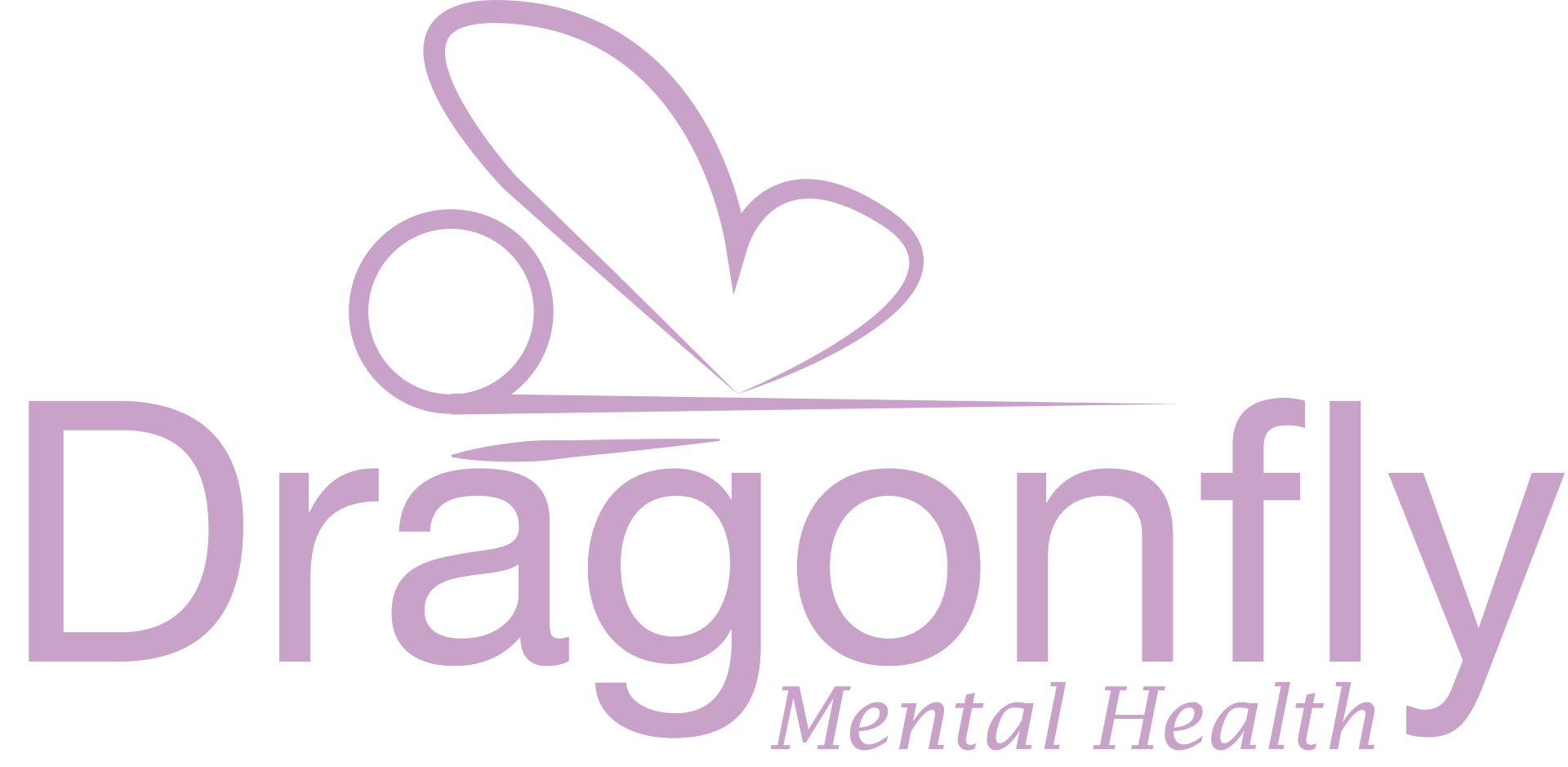 Dragonfly Mental Health is a globally operating non-profit organization, formed by academics for academics. Consisting of a wide range of scientists, researchers, students and faculty from all over the world, Dragonfly aims to cultivate excellent mental health among academics worldwide by addressing education, community building and research.

Since 2019 Dragonfly Mental Health ambassadors have delivered over 200 evidence-based and solution-oriented programmes reaching more than 20,000 academics worldwide.
There is a growing mental illness epidemic in higher education where graduate students have 8 times higher rates of severe depression and anxiety, far too often resulting in suicide(Evans et al, 2018;Satinsky et al, 2021). Typically, mental well-being is assessed in institutions with a bottom-up approach and programmes created to address mental well-being are either of a peer-to-peer nature, such as Mental Health First Aid (MHFA) programmes, or are created by early-career researchers to support graduate students in need(Fam et al, 2019; Berry et al, 2022). While it helps to increase awareness regarding the importance of mental health and facilitate access to mental health and/or medical professionals, the lack of a systemic institutional approach makes these efforts sporadic and unsustainable. This leads to some aspects of academic mental well-being not being covered within separate academic unit(s) and campuses, an unacceptable outcome, necessitating another approach.
When devising a method to evaluate the efficacy of well-being measures taken by an institution, there are several key elements to be considered. It is important to recognize that an internal review conducted by any individual risks being subjective, as it is their institution under examination. Besides potential biases, this creates a clear conflict of interest, as it is likely the reviewer will learn various details about their coworkers, the quality of the work they do, and how their actions contribute to the uncovered problems. For an evaluation to be undertaken with care and consideration, a certain level of expertise is required to know what needs to be assessed and the best way for that assessment to proceed.
Looking at the resources currently available (of which there are few), we concluded that the field of academic mental health needs an objective and independent tool where one can quantifiably measure which aspects of mental health support need improvement in an academic unit (Hughes et al, 2019; Blaszczak et al, 2022). To fill this gap, we developed and evaluated an efficient self-assessment survey that enables academic departments and institutions to quickly assess how well they address the mental health needs of their staff and/or students, and to identify areas where improvements can be made. The survey is split into five sections, with five questions each, and takes roughly 10-15 minutes to complete.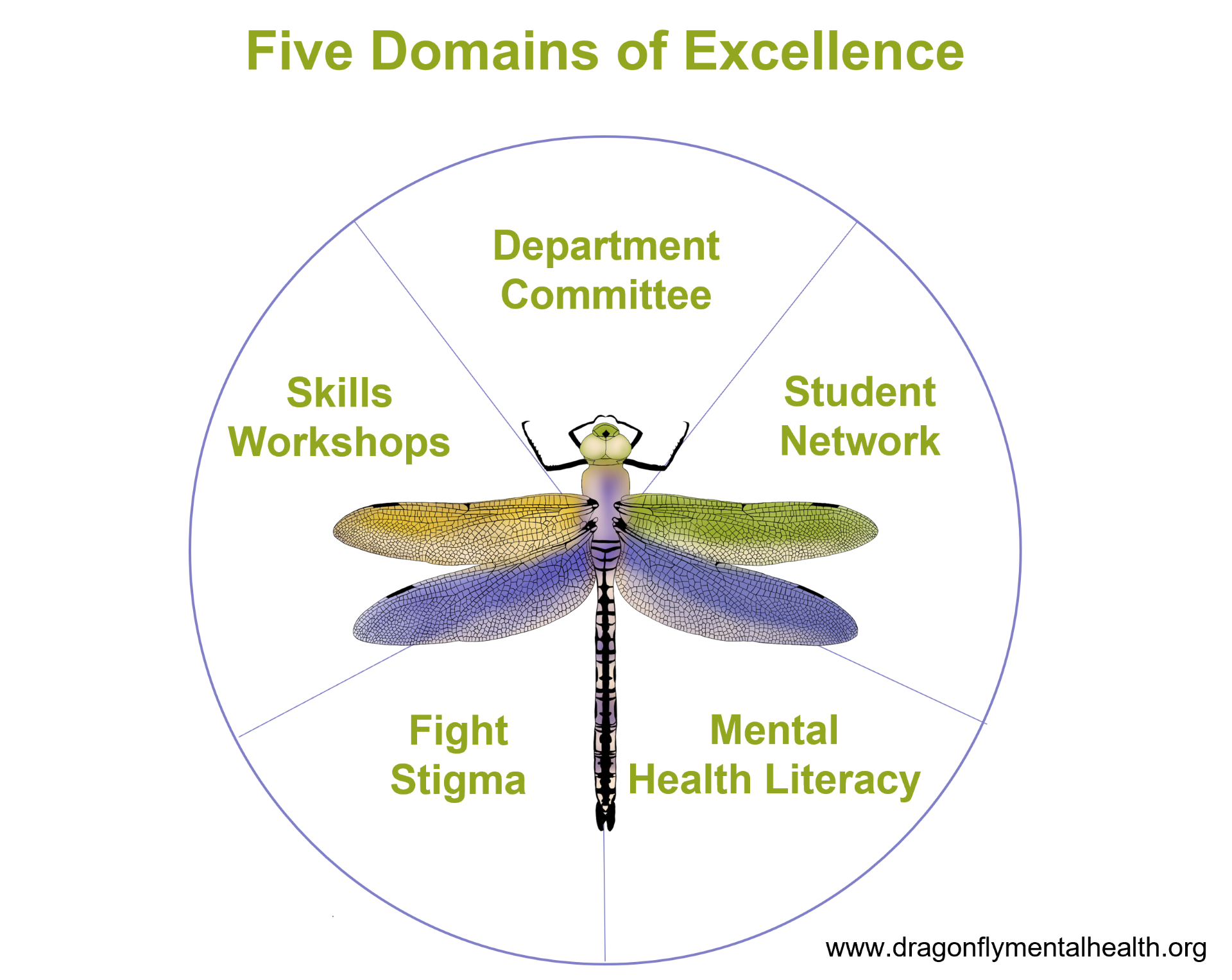 These sections are based on a 5 pillar-system that represents a wellness wheel developed by our organization. The first and second pillars of this system address the establishment and functions of a Departmental Committee and Peer Networks; the third and fourth pillars include active efforts in delivering Mental Health Literacy and Skills Trainings; and our fifth pillar incorporates active Anti-Stigma campaigns, featuring local first-person narratives.
Each pillar has its own discrete function. For example, a departmental standing committee is focused on mental health and/or well-being and includes representation from all career levels (faculty, staff, postdocs, and students) and diverse identities (underrepresented minorities, sexual and romantic orientation, and gender minorities, first-generation students and/or those that come from low socio-economic communities, internationals, and people with disabilities). Peer networks, in contrast, are departmentally supported grass-roots initiatives for specific groups (for example, graduate students, postdoctoral, faculty, and staff) which are focused on mental health and well-being.
A staple for addressing misinformation and stigma surrounding mental health, our mental health literacy pillar includes educational programming on major and minor mental health issues and illnesses. For this to be truly effective, it is essentialthat programmes are hosted regularly and that they are mindful of the intersectional experiences of community members (for example, international, LGBTQ+, URM/BIPOC, first-generation, with disabilities, and neurodiverse individuals).
Skills training is an often overlooked pillar, but it can be particularly helpful with regard to skills that are not usually taught during our academic training. Skills, such as active listening, become crucial when academics attempt to support fellow community members, as well as when they want to improve their communication with mentors, mentees or colleagues (Lutgen-Sandvik et al, 2012). Other skills, such as selfmanagement and growth, self-compassion, anti-supremacy, and managing up skills are all equally important but need to be addressed by most academic programmes. Having these skills trainings regularly will provide academics with the tools they need to support themselves and each other.
Finally, our fifth pillar encourages individuals and institutions to actively fight the stigma that exists in their academic spaces. We use a novel approach to accomplish this, in which we launch anti-stigma campaigns that begin with talking to individuals with lived experiences of mental health struggles who are willing to share their stories with the broader community. These stories and experiences are then recorded and compiled into a custom anti-stigma film which is then shown at a viewing event and followed up with facilitated discussions.
The steps outlined within these pillars are the foundations we used to devise the five questions in each section of the survey. We believe that by tackling each pillar, an institution can address and directly improve academic mental health and well-being on a systemic level. In addition, the evaluation survey can be performed by an employee at any level, as all employees should know the measures in place for mental well-being improvement.
In closing, you can find the survey available on our webpage under Needs assessment -> Self-evaluation survey. The questions are postulated in a way that the participant will know which steps should be taken to address the gaps highlighted in the survey answers.
We encourage readers to evaluate the efforts in their universities using our standardized questionnaire, and if they want to take action, use the questionnaire as a guidance tool to make improvements.
Acknowledgments
We would like to thank all the mental health advocates at every level for supporting us during our journey in cultivating excellent academic mental health worldwide.
Ruchama (Roo) Steinberg
Co-founder and executive director
Dragonfly Mental Health
roo@dragonflymentalhealth.org
Twitter: @RooRuchama
Wendy Marie Ingram
Co-founder and CEO, Dragonfly Mental Health
wendy@dragonflymentalhealth.org
Twitter: @pyromanticism
Sarah Wilson-Montemayor
Co-founder and chief managing director
Dragonfly Mental Health
sarah@dragonflymentalhealth.org
Victor See
Volunteer and former Lead of
Systemic Change Working Group
Dragonfly Mental Health
victorwcsee@gmail.com
Twitter: @astrovictorsee
Olga (Olya) Vvedenskaya
Co-founder
Dragonfly Mental Health
olya@dragonflymentalhealth.org
Twitter: @earlgrey_addict
References:
Berry, C., Phelan, E., & Michelson, D. (2022, May 13). "Weird duality": Learning from peer mentors' experiences of supporting student mental health during the COVID-19 pandemic. https://doi.org/10.31234/osf.io/hx3pg
Blaszczak, W., Ahmed, A., Leithner, K., Schubert, A., Leech, M., Bonder, C., & Tsagakis, I. (2022). Outlook of women in science: an interview with our authors. Molecular Oncology, 16(5), 1047–1056. https://doi.org/10.1002/1878-0261.13189
Evans, T. M., Bira, L., Gastelum, J. B., Weiss, L. T., & Vanderford, N. L. (2018). Evidence for a mental health crisis in graduate education. Nature Biotechnology, 36(3), 282–284. https://doi.org/10.1038/nbt.4089
Fam, J., & Lee, J. C. (2019). Peer mentoring: A move towards addressing inequality between PhD students. Neuroanatomy and Behaviour, 1, e8. https://doi.org/10.35430/nab.2019.e8
Hughes, G. & Spanner, L. (2019). The University Mental Health Charter. Student Minds. https://www.studentminds.org.uk/uploads/3/7/8/4/3784584/191208_umhc_artwork.pdf
Lutgen-Sandvik, P., & Tracy, S. J. (2011). Answering Five Key Questions About Workplace Bullying. Management Communication Quarterly, 26(1), 3–47. https://doi.org/10.1177/0893318911414400
Satinsky, E. N., Kimura, T., Kiang, M. V., Abebe, R., Cunningham, S., Lee, H., Lin, X., Liu, C. H., Rudan, I., Sen, S., Tomlinson, M., Yaver, M., & Tsai, A. C. (2021). Systematic review and meta-analysis of depression, anxiety, and suicidal ideation among Ph.D. students. Scientific Reports, 11(1) https://doi.org/10.1038/s41598-021-93687-7