Newsletter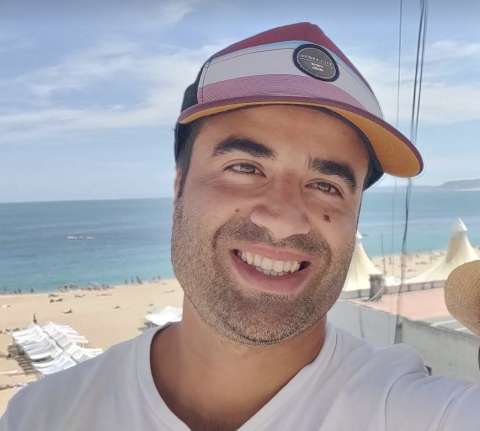 Pedro Resende,

a personal account

I was born in Espinho, a coastal city in the north of Portugal. Before I had a science career, I had a sports career. I played volleyball for 17 years. I won the national championship 5 times and made it to the Junior National Team. Many things I learned during my sports career have proven to be useful in my scientific career.
I have a PhD in Basic and Applied Biology (from the University of Porto, Portugal) based on the studies I performed at the Salk Institute for Biological Studies, California. I am currently leading an independent line of research in stem cell biology at the Institute for Research and Innovation in Health, Porto. I have had the opportunity to work in the academic and industrial sectors across Portugal, the UK, and the USA. I have co-founded a startup (Chaperone) and two academic associations. I have also worked as a Policy Advisor at Health Parliament Portugal and as an External Consultant at the Ministry of Health, Portugal. I am driven by transdisciplinary projects creating strong social impact. I continue to nurture my interest in sports (like surfing, capoeira and soccer) and I am a proud father of an 8-month-old baby girl named Laura.
Systemic issues like fixed-term contracts, financial insecurity, discriminatory research environment and misconduct continue to exacerbate the mental well-being of academics. This calls for an urgent, proactive, and collaborative approach between stakeholders to address these complex issues. One of the ways to assist with researchers' mental health and manage the stress caused by precarious work conditions is by adopting career development facilities at the institutional and university level. In this interview with Pedro Resende, we discuss how these facilities empower academics, enable them to succeed in their careers and achieve their full potential.
What was the source of inspiration behind your initiative with Chaperone?
My scientific career provided me with brilliant opportunities to work across several continents and institutes. However, irrespective of the cultural differences, it became apparent that researchers across all domains face similar fears of career uncertainty, which is one of the leading causes of high stress and mental health issues. My friend and colleague (now co-founder) Joana Moscoso had very similar experiences. Therefore, we were both determined to understand and solve this issue. After two years of vigorous discussions with multiple stakeholders, including institutional directors, scientists, and career consultants, we could establish that an effective solution to the problem would require a high-quality, democratized, personalized and modern systemic change. Hence, the idea of Chaperone, an online platform created to empower scientists and academics in their careers by connecting them with career consultants around the world, was born.
Given your experience of working with academics from diverse backgrounds and qualifications, what are some of the most common challenges that hamper their performance?
In the past year alone, I had over a hundred one-to-one conversations with early-stage researchers from different countries and scientific backgrounds, and what stood out as their biggest challenge was the ''fear of failure''. Irrespective of their discipline, the young academics feared venturing into new lines of research, different career paths, branching out of academia, or even committing to learning a new skill. It was interesting to notice their extreme desire to be 'productive' in their day-to-day duties, which required a great deal of focus and energy.
Such 'risk-averting' behaviour not only impacts their personal growth but also hampers the overall creativity at a group or an institutional level; consequentially diminishing publication quality, research integrity and innovation. Although factors such as culture, research field and experience level play a big role, some of the main contributors to such skewed vision include-the insecurity in maintaining research careers, outdated metrics to evaluate success and the lack of career development services.
How does a lack of career development capabilities affect the mental health of academics?
Career support is certainly not the solution to a pre-existing mental health illness, and if that is the case, then academics must be guided toward psychologists/ psychiatrists or other mental health professionals. However, it is probably one of the most effective ways to prevent these problems and more research should be conducted to study the relationship between career guidance and the prevention of mental health issues. High-quality career development skills empower an individual with tools to be more productive, plan, and prototype their career successfully. It enables them to learn about healthy work boundaries, professional relationships, better supervision and leadership skills. One could argue that the relationship between career development and good mental health is similar to the one between eating nutritious food and being healthy.
They say that 'it takes a village to raise a child'. When it comes to institutes and universities, who is responsible for creating a healthy structure and environment to foster the professional and psychological development of young researchers?
In every institution, the well-being of the staff and students should be the prime responsibility of the ones in leadership roles. It starts with the institutional directors and university deans (or equivalent), who, in a top-down approach, should create and nurture an efficient structure to ensure the professional and psychological development of researchers. That said, the supervisors and PIs of Master/ PhD and Post-doctorate programmes are also responsible for managing the welfare of their group members. The human resource (HR) department, academic services and career development office are also bound by their share of responsibilities. Outside institutions, funding agencies and governments are responsible for designing policies and procedures for strategic management to ensure institutional compliance.
It seems apparent that empowering academics with career management skills would have significant implications not just for their individual health, but also for the research outcomes and societal welfare. So why do you think we still lack the resources to prioritize this issue and include it in the mandatory training provided within academic courses?
We definitely need more awareness and literacy for career development. Many decision-makers still need to understand more comprehensively how career development is promoted, its positive impact and its importance in institutional competitiveness. Many leaders have built their careers in a context that differs from contemporary times and struggle to acknowledge the progress in this sphere. The solutions of the past do not serve the needs of the present. A growing number of positive examples reveal that we are improving. However, we have a lot to do as most of the researchers still don't have access to career development services.
Can you tell us about the European Charter for Researchers and Code of Conduct (2005)- its impact and shortcomings?
The European Charter for Researchers is a set of principles and requirements which specify the roles, responsibilities and entitlements of researchers as well as of employers and/or funders, all drafted with the goal to create a better professional environment. Created in 2005, it has since been signed by more than 13,000 research institutions from over 42 countries. Following this, an "HR Excellence in Research" award was generated to give public recognition to institutions that make good progress in their HR policies. The code clearly states that institutions hiring or funding scientists must provide career development services. However, since its inception (over 15 years ago), over 70% of scientists still remain deprived of these institutional services (unpublished data from an international survey conducted at Chaperone, which was consistent with previous findings). The failure to attain the European Charter's objectives illustrates that measures attempted in the past have not been effective and that democratizing access to career development services remains an elusive mission.
What do you mean by 'democratizing access to career development services to scientists' and what would be its implications for academic outcomeson a personal and professional level?
One of the United Nations' Sustainable Development Goals is to "Reduce inequality within and among countries". One way to achieve this is by imparting high-quality career support to all scientists. Currently, scientists from high-ranking and betterfunded institutions enjoy these, while others are left to manage their careers themselves. Such differences are further amplified in the job market where researchers with access to CV and grant writing skills from experts end up with a greater application success rate and job opportunities. Therefore, democratizing access to empowering career development facilities could help reduce such inequalities.
I hope that a greater commitment of scientific institutions to supporting their staff, would also enhance scientific productivity and reduce underemployment, thereby generating better-qualified supervisors and mentors. This would have a profound impact on the mental health and well-being of researchers, improve standards of research culture and contribute to overall healthier societies.
At Chaperone, we feel proud that we have been at the forefront of this democratization process and that within a short span of 3 years since our launch, we have provided career development services in over 30 countries, benefiting thousands of academics. This process has further initiated a wave of change and researcher development within their home institutes and universities.
Can you highlight the main differences between the current models and future trends of career development for researchers?
All sectors are undergoing major transformations in order to adapt to a VUCA (volatile, uncertain, complex and ambiguous) world. Today's leadership trends suggest that employees seek more from their jobs than just a paycheck. Within scientific career development, we are witnessing a stark change from the support that was once based on ''an unfamiliar person, with an old PC and a PowerPoint, giving career tips from 30 years ago'', to modern, holistic and real support. Some of the major aspects of this transformation include:
- Career development is not something we need just to jumpstart our careers, but something that benefits us through different phases of our lives. Be it a young university student or an established director, there is always scope for new learning and growth for everyone.
- Embracing the importance of different specialists and their roles. Slowly, but steadily, the thought process is changing from "only my supervisor can help me" to working with career mentors, advisors, counsellors and coaches. This thought process offers the academics a well-rounded exposure and understanding of themselves and their career goals.
- Offices that are designed to respect values of diversity, inclusion and hyper-personalization. These combine internal and external services to have a wide representation of specialists with different expertise, nationalities and cultures, along with a broad knowledge of career paths and markets. They plan formal and informal training with the flexibility of in-person and digital platforms.
- Services that respect scientific evidence and recommendations for climate change issues by reducing carbon emissions contributed by unnecessary travel. The hybrid model of these services caters equally to individual needs and environmental concerns.
As you rightly mentioned, many researchers continue to depend on their PIs and professors for career advice and guidance. Do you think it would be beneficial to train PIs and others in leadership roles? How feasible would it be to implement such training in their job responsibilities?
Leadership skills can and should be trained, and academia can definitely gain from that. At Chaperone, we train in different topics around leadership for academics and work on cases that participants desire to discuss, highlighting the poor state of affairs within academia. Although I think most group leaders are interested in improving their leadership, they feel "trapped" with enormous academic and administrative commitments, with little time to spare for their own career development training. However, the academic mentality fails to identify its long-term benefits. With changing times, academia would have to create robust leadership evaluation systems and criteria when processing grant and fellowship applications. Honestly, it is hard for me to understand why we are so behind on this particular aspect.
What kind of systemic changes need to accompany individual interventions like Chaperone, for them to succeed at a university or institutional level?
Big systemic changes require interventions by policy-makers and funding agencies. To have career support that fulfils good standards should be a mandatory criterion for institutions to receive funding from government agencies. Additionally, fellowships/ grants should always include a budget for defined career development services for the researchers. In the long term, I hope that the return on investment in making such an adaptation is evident and that most institutions in STEM adopt it in their policy model. It is quite a common practice in other professional sectors, and I am confident that such transformations will soon occur in Science as well.
Based on your experiences working with a diverse set of professionals, what is the one piece of advice that you would give academics to better manage their mental well-being without compromising their career aspirations?
Prioritize your health and well-being above everything, which is an underestimated meta-skill essential for medium and long-term success. Prioritizing means being accountable to yourself and allocating time during your week to practice activities and learn new skills that would benefit your health and well-being.
Pooja Khurana
MCAA Newsletter, Editorial Board Member
poojakhurana.official@gmail.com
Twitter: @PK_ActNow