THE JOINT EUROPEAN MENTORING INITIATIVE PILOT: NAVIGATING NEW PLATFORMS FOR CONNECTING MOBILE RESEARCHERS
Angela Bellia has joined the Joint European Mentoring Initiative. She tells us about her aims, aspirations and expectations 
THE JOINT EUROPEAN MENTORING INITIATIVE (JEMI)
My experience with JEMI started in 2018 at the last MCAA Conference which took place in February in Leuven. During the Mentoring Session within this event, Viktoria Bodnarova, the regional representative at EURAXESS North America, informed us about JEMI's mission and vision, and about the involvement of the MCAA North America and beyond in this project. The JEMI project aims to empower researchers from and working in Europe to achieve their full potential by providing a bottom-up comprehensive mentoring platform to build and maintain networks for their research career advancement.
THE ROLE OF THE MCAA
The MCAA is a partner of the JEMI project. When the MCAA Academy team and Marco Masia contacted me, I quickly agreed to become part of the JEMI Pilot in order to add my enthusiastic support to this important initiative. What I wish to do is to give backsome of what I have received in my research career thanks to Europe and European programmes. My aim is to help develop careers, personal growth, relationships, and offer guidance to my potential mentees. On the basis of my own personal experience (and resilience), I am deeply motivated to offer my support in pursuing the JEMI objectives: to advocate for European intellectuals by providing a comprehensive range of learning opportunities, and to expand the scope of European-funded services and support available for European researchers worldwide, especially to younger researchers in North America so that they can reconnect with Europe.
MY ROLE AS A MENTOR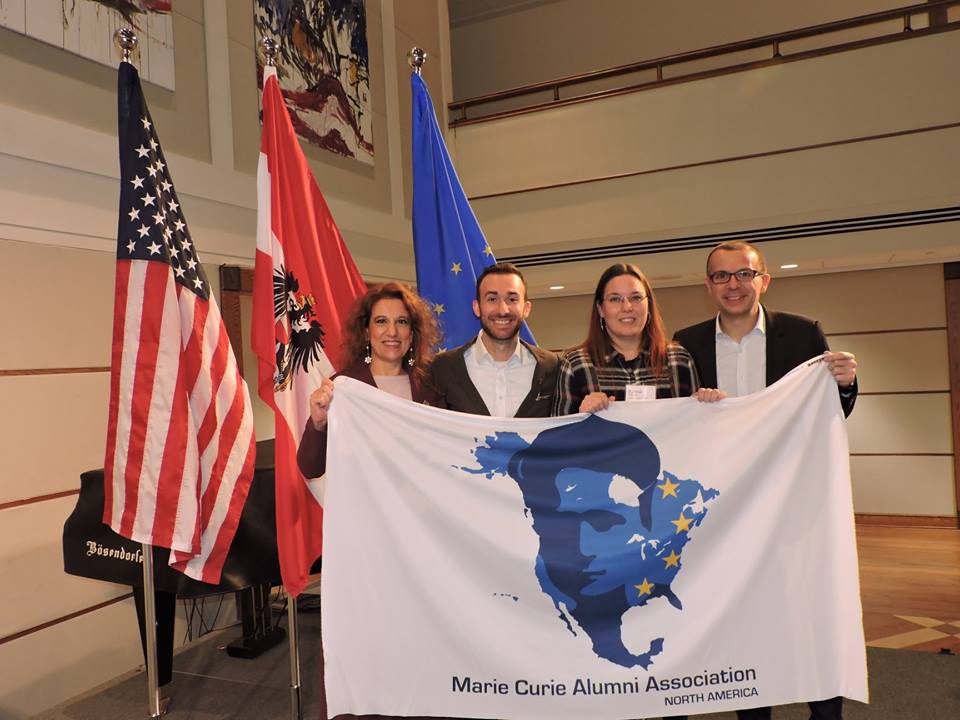 Like all other mentors from the pilot programme, I was selected based on the recommendation and experience of MCAA and JEMI representatives. I have been paired with a Postdoctoral Research Fellow at the American Museum of Natural History. Her name is Claudia Wultsch and she is an Austrian wildlife scientist with a broad interest in ecology and conservation of mammals occurring across fragmented and human-altered landscapes. Our first Skype meeting, which took place in October, was a very positive and pleasant conversation. We were very excited to meet. I listened to her attentively to  understand her most urgent issues. She is working in New York, but her dream is to return to Europe.
I provided her with encouragement, helping her to identify and assess her priorities at this moment of her life and her research career in order to develop step by step. I discussed the opportunities offered by the European programmes, and particularly by the Marie Skłodowska-Curie Individual Fellowships. We also considered a possible host institution in Europe which would be able to develop her international, interdisciplinary and inter-sectorial project. I hope to help her in preparing a successful proposal on the basis of my experience as a two-time winner of the Marie Skłodowska-Curie Individual Fellowships. Seeing her be successful in this would make me very happy!
WHAT'S NEXT?
I am confident that this important initiative will allow European researchers outside Europe to take advantage of best practices from other systems and to integrate it into their professional career development schemes. I think JEMI will contribute to promoting broader pan-European and global collaborative projects. As a baseline platform, the JEMI project will highlight the quality of European academics and emphasise the value of European influence in the US and North America. As Dimah Mahmoud, the Euraxess North America programme officer, emphasised at the Fourth Annual Meeting of the European Scientific Diasporas in North America which took place in Washington, one of the goals of the JEMI project is the advancement of the European Research Area. Its full implementation is the main research policy objective of the European Union, as per Article 179 of the Treaty on the Functioning of the European Union. Transnational research across the whole of Europe and beyond is instrumental, not only for leveraging the achievement of a fully functional European Research Area, but also for Europe to be part of a Global Research Area that embraces open science in the coming years.
For this reason, the JEMI project is not only a knowledge-sharing tool, but an investment in a global- oriented European identity and ultimately, the future.
THE NEXT GENERATION OF VIROLOGY EXPERTS
Pietro Scaturro recently published 'An orthogonal proteomic survey uncovers novel Zika virus host factors' in the Nature Journal. Here he explains his work about solving this new puzzle.
ABOUT PIETRO SCATURRO
I was born and raised in Palermo, Italy. I received my B.Sc. and M.Sc. degrees in Molecular Biotechnologies from the University of Bologna. This allowed me to pursue my interests in translational virology and viral-based gene-therapeutics in the laboratory of professor Gabriella Campadelli-Fiume. During this time, I also spent over 10 months overseas, specialising in advanced murine microsurgery techniques at the University of Alabama at Birmingham (USA), in the group of James M. Markert.
Following my passion for virology and virus-based therapeutics, I then joined, as an Early-Stage Marie- Curie Fellow (ITN project EUVIRNA), the group of Ralf Bartenschlager at the University of Heidelberg (Germany). It is here that I completed my doctoral studies with honours, working on tropical arboviruses and focusing on the characterisation of innovative antiviral targets and drugs alongside with fundamental molecular virology studies on Dengue virus.
After this, I joined, as a post-doctoral fellow of the Department of Proteomics and Signal Transduction, the Max-Planck Institute of Biochemistry in Munich (Germany), where I applied complex mass-spectrometry techniques and systems biology approaches to uncover novel essential flavivirus host-factors.
I am currently a senior post-doctoral fellow at the Technical University of Munich. Working in the laboratory of Andreas Pichlmair (Institute of Virology), I continue to apply advanced systems biology approaches to pursue my long-standing interest in tropical arboviruses.
SPOTLIGHT ON TROPICAL VIRUSES: NEW PUZZLES TO SOLVE
With almost no precise mechanistic details known about their life cycle when compared to other medically- relevant viral pathogens, arboviruses are particularly interesting both from a basic research and clinical standpoint, since neither antivirals nor prophylactic or therapeutic vaccines are currently available.
The emergence of congenital Zika virus (ZIKV) syndrome in the past few years generated a public health crisis, renewing public interests on arthropod-borne viruses, given its wide geographical distribution and its association with severe neuropathologies in infants.
Indeed, a significant number of women who were bitten by infected mosquitoes at the beginning of their pregnancy, subsequently gave birth to children with severe disabilities. The newborns suffered from a condition known as microcephaly. This is a medical condition in which the brain is smaller than normal, resulting in serious neurological disorders.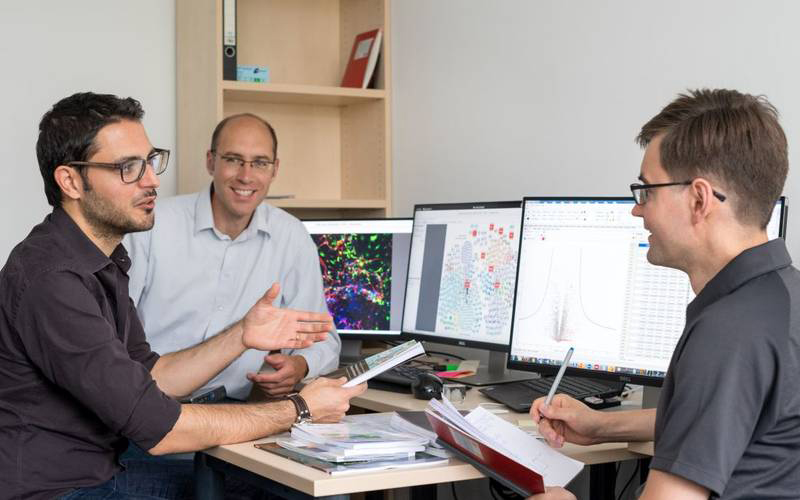 The scientific team of the Zika virus study (from left to right): Dr Pietro Scaturro, Professor Andreas Pichlmair and Dr. Alexey
Stukalov. (Image: A. Eckert / TUM)
Despite the global attention on this worrisome pandemic, the molecula mechanisms responsible for ZIKV pathogenicity and neurotoxicity remained largely elusive.
Aiming to understand how ZIKV affects neuronal cells, I went on a "fishing expedition at the beginning of my post-doctoral experience in Munich. I used innovative systems biology approaches to identify the multiple interconnections between ZIKV proteins and the human host's proteins. This approach aimed to identify which cellular functions are perturbed by the virus, hoping to untangle the reasons behind the neurological defects suffered by newborns and therefore accelerating possible therapeutic developments.
The results of this work have been recently published in Nature (Scaturro et al. An orthogonal proteomic survey uncovers novel Zika virus host factors. Nature, September 2018, DOI: 10.1038/s41586-018-0484-5.)
ZIKV HIJACKS CELLULAR PROTEINS IMPORTANT FOR PROPER NEURONAL DEVELOPMENT
One way to understand how viruses interfere with essential cellular functions is to identify which cellular proteins they bind. Exploiting affinity- proteomics, I used each of the 10 Zika virus proteins as "baits" to fish out of neuronal cells the cellular components bound to each of them.
Besides identifying proteins previously shown to interact with other closely related tropical viruses, this approach surprisingly identified novel cellular proteins specific to ZIKV, including proteins linked to neurological disease and development. These results were particularly important given the association of ZIKV with severe neurological abnormalities. Examples of these proteins were LARP7, LYAR and the neuronal development factor NGDN, previously involved in severe neurological diseases (i.e. a primordial form of dwarfism called the Alazami syndrome) or for maintenance of embryonic stem cell identity.
This innovative approach also allowed identifying which Zika virus components are mainly binding these neurodevelopment-related proteins, therefore pointing to specific targets for the development of novel antiviral drugs. Among these, the non-structural (NS) protein 4B showed the most prominent and specific enrichment in proteins associated with neurodegenerative disorders, retinal degeneration, neuronal differentiation, and axonal dysfunction; all associated with ZIKV infections in humans.
DANGEROUS SIDE EFFECTS OF VIRUS REPLICATION
Because ZIKV predominantly infects neuronal progenitor cells (NPCs) during the early stages of development, as part of this challenging study we aimed to understand how ZIKV infection perturb the normal neuronal differentiation process. Mimicking this differentiation process in vitro and using global proteomics analysis, I identified proteins significantly up- or down-regulated by ZIKV during differentiation of NPCs into neurons, paving the way for a better comprehension of the cellular mechanisms underlying ZIKV pathogenesis.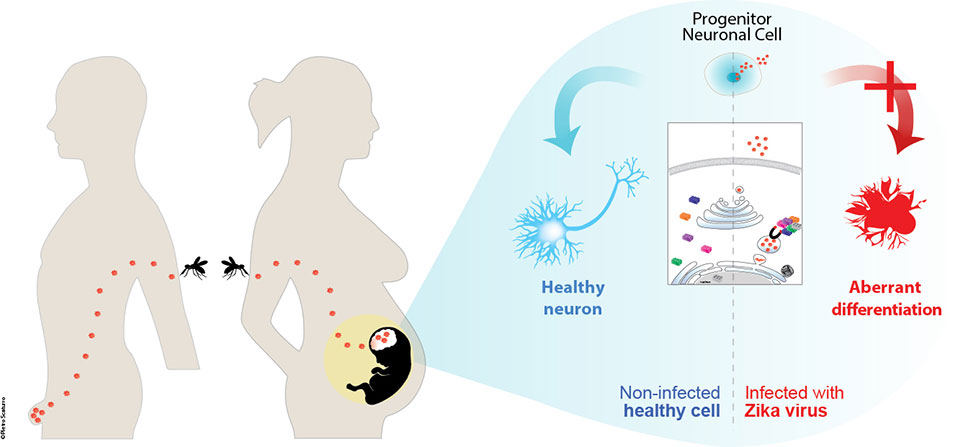 Zika virus is a tropical virus transmitted to humans through the bite of infected mosquitoes. In most cases infected individuals do not show any sign of the disease, however the virus can persist in the genital tract of infected males, where it can be transmitted sexually to other individuals for several months. When the virus infect pregnant woman, is directly transmitted to the foetus, which develops severe neurological malformations. This study identified hundreds of cellular proteins (here depicted as Lego bricks) whose functions are disturbed in infected cells, creating the foundations to understand this important disease. (Image credits: P. Scaturro / TUM)
CLEAR PICTURE OF THE VIRUS INFECTION
Not only absolute cellular protein levels are perturbed by viral infections. Indeed, also chemical modification of proteins, called post-translational modifications, play important roles in several pathological states. To gain insights into how ZIKV controls and executes the complex and dynamic reorganisation of cellular signal-transduction pathways, I applied a technique called phosphoproteomics to analyse neuronal cells infected with Zika virus. This allowed profiling on a global scale how the virus tunes the activity of thousands of cellular proteins for its own benefits, and therefore identify those mechanisms potentially contributing to impaired neurogenesis associated with ZIKV infection.
NEW TARGETS IN THE ZIKV BATTLE: HOPE FOR TREATMENTS
Based on the findings from all the three approaches described above, I went on to investigate a number of the newly identified Zika host factors. Using gene silencing, I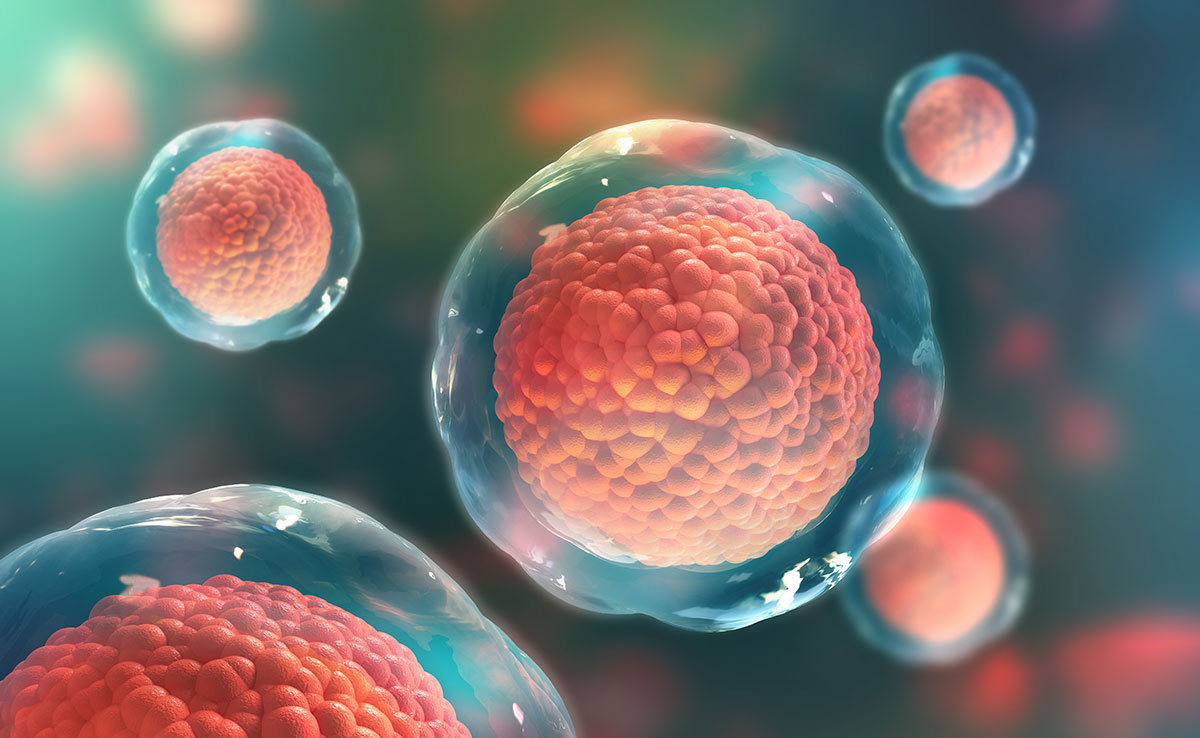 discovered 14 novel cellular proteins critically required for ZIKV replication. Indeed, artificially switching off each of these cellular factors, drastically hampered ZIKV replication, confirming their therapeutic potential.
Altogether, this work suggests that ZIKV evolved multiple mechanisms to usurp, exploit or perturb fundamental cellular processes, ultimately inducing a broad spectrum of pathological abnormalities in humans. While this study is essential for guiding more focused studies ultimately aiming at developing new antiviral strategies to fight viral diseases, it represents only a starting point. In fact, only global collaborative efforts, scientific openness across borders and international mobility of researchers will succeed in accelerating the pace of ZIKV research and find medical solutions for potential new upcoming "tropical" surprises.
LINK TO THE STUDY:
https://www.nature.com/articles/ s41586-018-0484-5