Newsletter
Open Life Science (OLS) is a training and mentoring program in open science that builds a peer-led global, diverse, and inclusive community. This virtual program consists of training calls on various aspects of open science, one-to-one mentoring, and spaces for communication and practice sharing. OLS alumni are welcome to come back as mentors and are provided training and support. Though OLS was incubated as a life science-focused initiative in 2019, it has rapidly expanded beyond to cover various domains of science and research. OLS has grown a large pool of mentors and experts to support virtually any area and provide participants with hands-on skill training.
Widening inequality in access to scientific and technological resources hinders achieving the United Nations Sustainable Development Goals. Open science, by making the research process more transparent, reproducible, and inclusive, is being increasingly recognized as an essential contributor to sustainable research practice. Indeed, UNESCO has been supporting the shift to open science by consulting multiple stakeholders and issuing the Recommendation on Open Science (adopted in November 2021), providing a framework with a universal definition, shared standards, values, and principles of open science. Furthermore, in the summer of 2022, UNESCO launched a Global Call for Best Practices in Open Science.
New norms and behaviors often arise in bottom-up or grassroots initiatives, inciting and complementing top-down policy changes in building the culture change. Open Life Science (OLS) is a community-oriented non-profit organization that promotes open, inclusive, and equitable research. OLS, which was incubated via the Mozilla Open Leaders initiative in 2019, and in 2022, is an internationally recognized training and mentoring platform to gather structured training and mentoring for academics, researchers, undergraduates, and other stakeholders working on participatory projects. For that, OLS provides resources, peer networks, and expert consulting to build open projects, establish/lead teams and become multipliers of open research in their networks. The essential requirement for joining this free program is a curiosity for open science and collaborative/ team research.
What does capacity building in open science look like? As of 2022, OLS has almost 500 + community members across six continents and countries across the Global South and North. On the 27th of February 2023, OLS started its seventh cohort, which will run for 16 weeks. All participants - often teams and research groups - work on an open science project with guidance from dedicated mentors and experts from the community. The program is entirely virtual, and alumni of previous cohorts are welcome to come back as mentors or just stay in touch with the community.
An Open Life Science cohort journey starts with participants applying to the program. They are then matched with mentors based on their interests, expertise, and time zone compatibility. Mentors and mentees meet regularly every two weeks. In these meetings, mentors provide guidance and support to help mentees achieve their goals. In addition, throughout the program, mentees are engaged in training opportunities, such as interactive video calls and skill-up workshops, and encouraged to interact with the entire cohort, engaging in group discussions and providing each other feedback. The topics of the training program are presented in Figure 1.
During three years of all-remote communication, OLS developed sustainable practices to design the community experience to help as many different kinds of people participate in it, embracing the principles of diversity, equity, inclusion, and accessibility. The practices OLS developed for this aim include: ensuring inclusive remote participation, sharing narratives of the OLS grant applications with a wide audience, and sharing the recordings of the training calls and other educational resources. Training calls, in particular, are experts' talks on collaborative open research practices. They form almost 100 hours of open educational resources on the OLS Youtube channel, becoming a valuable training resource for an audience that goes well beyond the OLS mentees.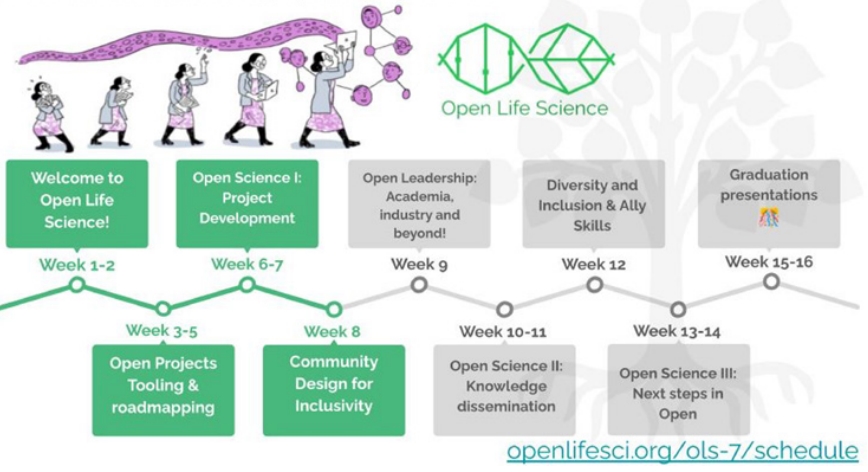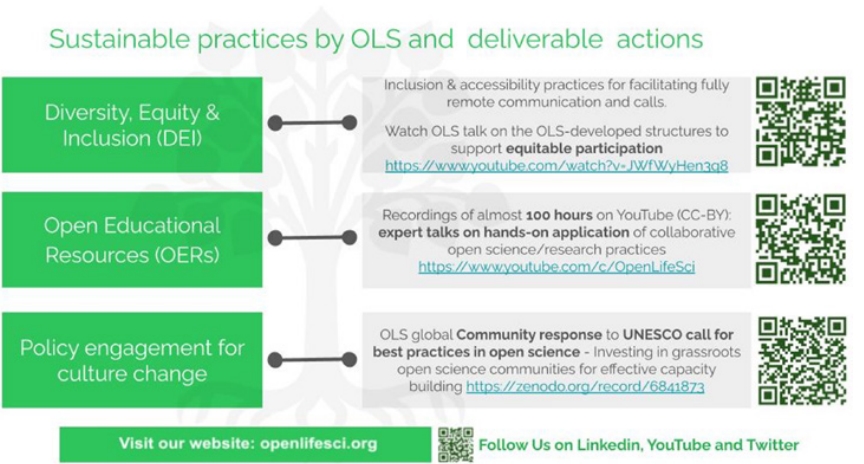 OLS, as a community of practice, engages with policy to facilitate cultural change. As an example of collective action, OLS as a global community responded to the UNESCO call for best practices to highlight the importance of grassroots initiatives in strengthening society-science-policy relationships; read the full response and community consultation process in Zenodo.
What is next? If the values of an inclusive and collaborative environment speak to you, if you are curious about open science and research (beyond open access), then
• Follow us on LinkedIn, Twitter
• Read exciting stories from our program
• Explore OLS cohorts on the map
• Join, benefit from, and contribute to the OLS community
• Consider applying for the OLS-8 cohort, and applications will open in June 2023
• If you are interested in running a taster workshop in your community or organization to introduce them to opensharing culture or just want to chat, contact us at team@openlifesci.org
Mayya Sundukova
Open Life Science
mayya.sundukova@gmail.com
Linkedin: @mayya-sundukova
Lisanna Paladin
European Molecular Biology Laboratory
lisanna.paladin@gmail.com
Twitter: @pradeeperant
Pradeep Eranti
MCAA Newsletter, Editorial Board
Université Paris Cité
Twitter: @pradeeperanti
All authors are part of the Marie Curie Alumni Association and OLS community - in various roles. Mayya Sundukova is a Resident Fellow in OLS, Pradeep Eranti was onboarded as a mentee and stayed as a friend of the community, and Lisanna Paladin was onboarded as a mentee and is now a mentor in the initiative.