Newsletter
Senol Piskin, the 2022 MCAA Innovator Award winner, talks about what helped him get to his current university position as well as his future plans.
Senol Piskin,

a personal account

Senol Piskin is currently an Assistant Professor in Turkey and runs a lab named Modeling, Simulation and Extended Reality.He was an MSCA Individual Fellowship recipient. He worked as a postdoctoral research associate and a lecturer at the University of Texas, USA.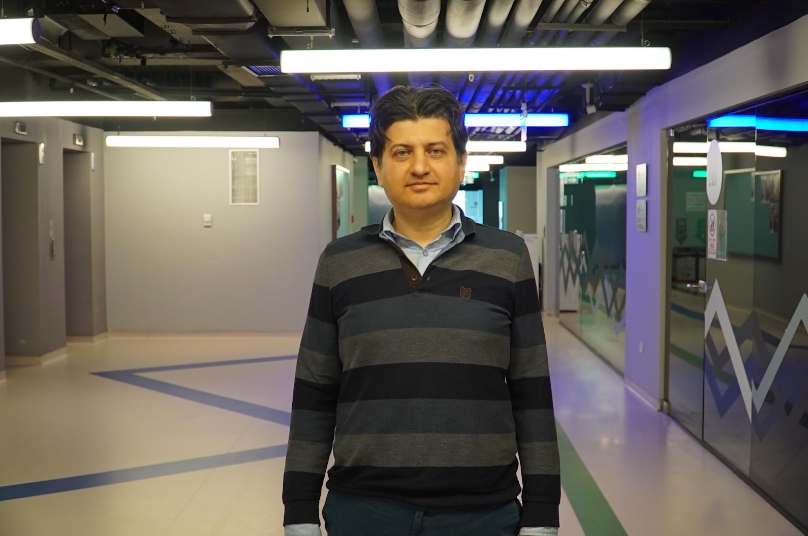 He currently works in the field of scientific computing with applications in healthcare technologies and develops solutions by coupling augmented reality, wearables and machine-learning techniques. A part of his research focuses on understanding the mechanisms of brain disorders to predict vascular and cognitive diseases at early stages. Senol has several patents to his name and several papers in journals of international repute.
How does it feel to win this award?
Winning this award from the MCAA is an incredible honour and a privilege. I feel grateful, humbled, and proud to be recognized by such a prestigious and influential organization of like-minded peers. This award is a testament to the hard work, dedication, and impact that I have achieved in my field of innovation. It motivates me to continue pushing boundaries and making a difference in the world. This award is not only a personal achievement, but it also reflects the contributions of my team, collaborators, and mentors who have supported and inspired me throughout my journey.
What road/journey led you to this award?
My journey to this award has been characterized by curiosity, perseverance, and collaboration. I have always been fascinated by the power of technology to solve complex problems and improve people's lives. From an early age, I have been tinkering with gadgets, exploring new software, and learning from online resources and communities. I pursued formal education in STEM fields, worked on research projects, and gained industry experience in various domains. Along the way, I met mentors, colleagues, and friends who challenged me, encouraged me, and inspired me to think outside the box and pursue my dreams. I have also learned from my failures, setbacks, and criticism, which have made me stronger and more resilient. Ultimately, winning this award is a validation of the value of my journey and a motivation for me to continue exploring new frontiers.
How will this award propel you in your future endeavours?
This award serves as a motivation for me to continue pursuing my passion for innovation and pushing the boundaries of what is possible. It is also an opportunity to showcase my work to a wider audience and attract more support, funding, and partnerships for my future endeavours. I believe that this award might open doors for me to connect with new innovators, industry leaders, investors, and policymakers who share my vision and can help me bring my ideas to fruition.
What are your future goals?
My future goals are to continue innovating, collaborating, making a positive impact on people's lives, particularly in areas that address pressing societal challenges such as health, sustainability, and social equity and contributing to society. Innovation is not an end in itself but a means to address pressing challenges and opportunities in various domains, such as health, environment, education, and economy. Therefore, my focus will be on identifying problems, engaging stakeholders, designing solutions, and evaluating impact. To achieve these goals, I plan to continue collaborating with like-minded individuals and organizations, seeking out new opportunities for learning and growth, and being open to new ideas and perspectives. I also aim to inspire and empower the next generation of innovators, especially in underrepresented and marginalized communities, by sharing my experience, resources, and networks.
What is your advice for the MCAA?
My advice for the MCAA is to continue its excellent work in fostering a community of innovative and passionate individuals who are committed to making a difference in the world. I would encourage the MCAA to prioritize diversity, equity, and inclusion in its activities and initiatives, ensuring that all members feel welcome and supported. Innovation requires creativity, curiosity, and risk-taking, but it also requires a supportive and inclusive environment that values diversity, equity, and inclusion. Additionally, I would suggest the MCAA focus on identifying and addressing critical societal challenges that require innovation and interdisciplinary approaches. Finally, I would recommend the MCAA continue providing opportunities for networking, mentorship, and skill development, which are essential for supporting the growth and success of its members.
Andrey Zhylka
MCAA Newsletter, Editorial Board
Postdoctoral researcher
The Netherlands Cancer Institute
zhylka.ai@gmail.com