Newsletter
During the first day of the MCAA Annual Conference 2023 in Cordoba, parallel sessions 4 and 7 on the sustainability of research management and the process of rewarding researchers for open access were held. This article provides some key takeaways from both sessions. Although these sessions addressed different topics, they were interconnected by a common discussion on definitions, challenges, and recognition.
The first session on sustainability of research management was partly organised by members of the Research Management Working Group chaired by Jonas Krebs. It had the objective to address how developing research management can contribute to making research institutions a better place to perform research.
This session was chaired by Hakim Ferria, vice-chair of the Working Group and Projects Manager in France, who focused the debate around very relevant questions such as:
• What are the duties and tasks of a research manager? And their qualifications?
• How is research management structured?
• What is the significance of research management today, and in what ways can it help address various issues?
• What are the challenges faced by research managers in Eastern Europe compared to Western Europe?
• How do people envision the future of research management and what recommendations can be made for the future?
The panel was composed of Zlatuše Novotná (CEITEC Masaryk University, Alliance4Life), Eitan Segev (Hebrew University), Nik Claesen (European Association of Research Managers and Administrators - EARMA), and Irène Arrata (University of Strasbourg) research managers from diverse regions and with various backgrounds, which allowed for a wealth of pertinent and well-considered responses.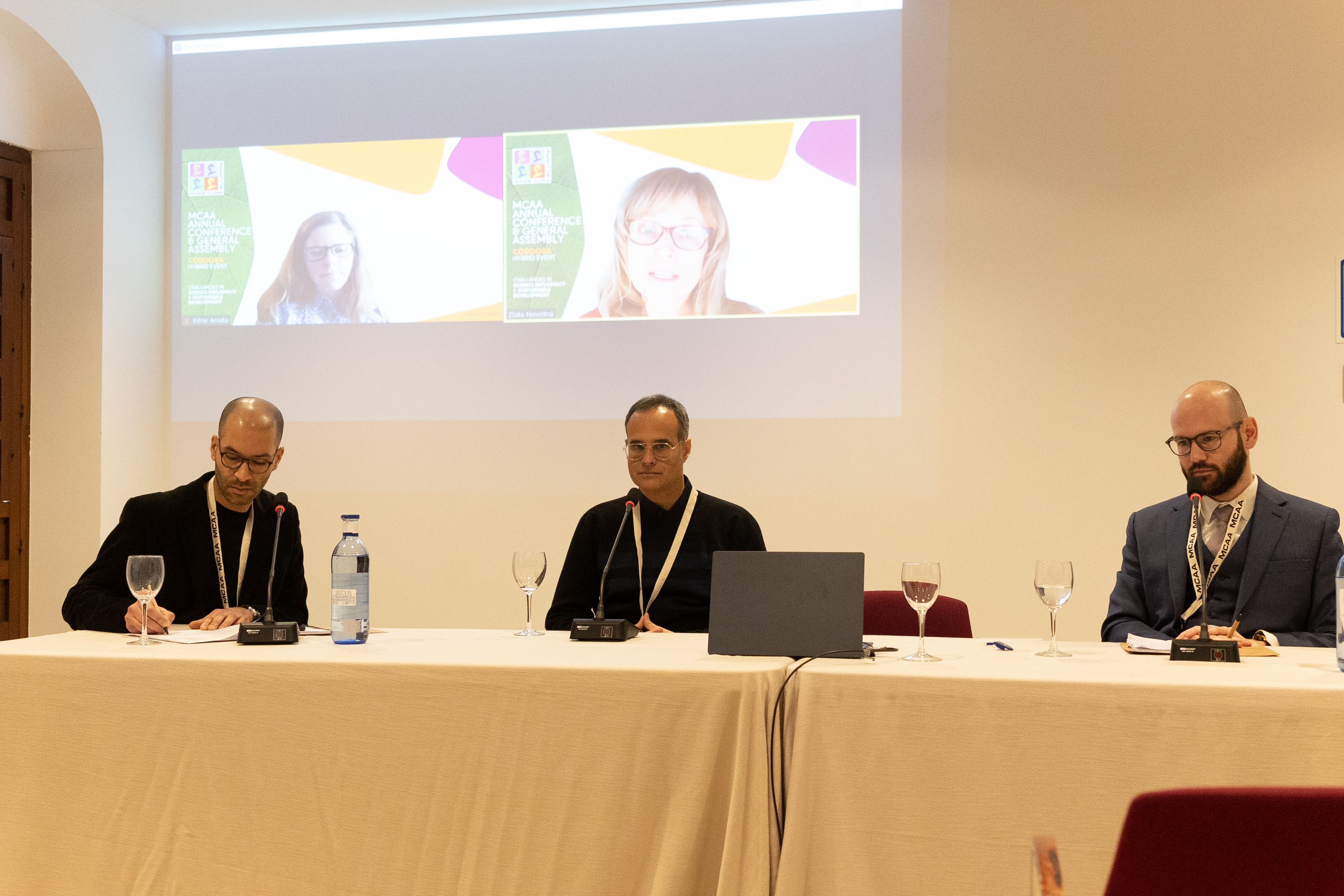 One of the main challenges identified is the lack of recognition of the profession, which affects the recruitment of qualified personnel. Research management involves multiple tasks and requires skills such as communication, empathy, and intercultural intelligence. The discussion also covered the need for professionalisation and training to cover various tasks such as recruitment, updates, contact with institutions, and planning workshops or training. It was also noted that the role of research management became more and more essential during the pandemic because of the need for numerous modifications in the project planning and the need for adaptation to the ongoing conditions. The panellists recommended building networks for research managers locally and internationally. They highlighted the importance of making the role of research management more visible, advocating for more recognition of the profession, and emphasised the problem of short contracts. The project RM ROADMAP together with local initiatives are notably participating in this change. Finally, recommendations for the future focused on the system recognizing the value and need for real change. The members of the panel, together with the interacting audience, recommended translating the good results from initiatives into policy making and ensuring the voice of the research management community was heard.
The second session "How can we reward researchers for open access?" raised awareness on the well established, yet sometimes incoherent, way of rewarding the choice of open science by researchers.
This session was chaired by Giulia Malaguarana, Secretary of MCAA and open science ambassador. She firstly gave the floor to Brian Cahill, former chair of the MCAA and EuroScience Board member to present the Open and Universal Science Project (OPUS), the project at the genesis of this session. He pointed out that according to him "Open science is the only way to do science."
The panel was composed, besides Brian Cahill, of Sebastian Dahle (Eurodoc), Claire Viney (Vitae), Gareth O'Neill (EOSCF), all partners of the OPUS project and open science ambassadors, which allowed for well-argumented discussions on indicators and metrics to reward open science.

However, one challenge was emphasised: it is important to define a matrix and framework for the rules on publishing and open access propositions. Additionally, there was a discussion about the inequalities in costs and how this can come back to the assessment of research. There are many free open access journals out there, yet many are disregarded by universities purely based on their impact factor. This can lead to researchers being hesitant to publish in them, effectively stimulating submissions to and, as a result, sales of large commercially profitable journals. It's important to promote and reward open access publishing in all forms, including the development of new assessment metrics of their research impact.
About this, it was shared that:
"Research assessment should take several activities into account, such as teaching. The assessment system shouldn't be focused on numbers but should always be qualitative"and "Academia is focused on metrics that don't have a value in the real world, so we need to find a way that researchers are rewarded for scientific excellence but also transferable skills."
It was great to see that the attendees were engaging through an interactive questionnaire with the topic of open science and discussing the various challenges and opportunities associated with it.
Overall, it's clear that there is still work to be done to fully realise the potential of open science in research. This work needs to be approached from multiple perspectives, including that of researchers, publishers, and funders. It's encouraging to see that discussions around open science are taking place and that efforts are being made to improve the current system.
Christina Makoundou
MCAA Newsletter, Editorial Board
Twitter: @Christina__Mak