Newsletter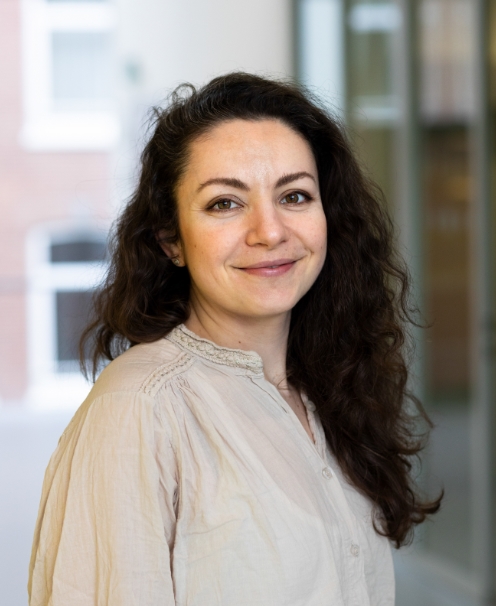 Oleksandra Ivashchenko, the winner of the 2022 MCAA Social Impact Award, tells the story of the #ScienceForUkraine and how the award is going to be used for good.
Oleksandra Ivashchenko,

a personal account

Oleksandra V. Ivashchenko is a clinical medical physicist of radiology and nuclear medicine at the University Medical Center Groningen (Netherlands). She joined the MCAA shortly after completing her ESR fellowship within the MSCA-funded ITN at TU Delft. She is an active member of the MCAA and has served as Editor-in-Chief of the MCAA Newsletter since October 2022. In February 2023, she received the 2023 Social Impact Award for her contribution to the volunteer initiative #ScienceForUkraine, focusing on information centralization and lobbying for insider support for students and scientists affected by the war in Ukraine.
How does it feel to win this award?
I am very grateful for this honor from the MCAA, but I do not see it as an individual award. The Social Impact Award was presented for the contribution of the #ScienceForUkaine volunteering initiative, of which I have been a member since the very beginning, in supporting scientists and students affected by the war in Ukraine. I am therefore very happy with the recognition that the organization has received, but certainly do not see it as an individual honor.
What road/journey led you to this award?
Shortly after processing the news of the start of the war in Ukraine on February 24, 2022, I had to do something different, I had to act. So, I have turned to things I know how to do best apart from my actual work: the power of networking. I went on all social media and started looking for activists and ways of supporting Ukrainian people. Purely by luck, Twitter post of Sanita Reinsone, founder of #ScienceForUkaine, was shared with me. This passionate scientist from Latvia was calling for re-direction of overhead funds from various research projects, so that they could be used to host scientists and students fleeing the war in Ukraine. I joined the call, and, on February 28, a "huge" team of 4 scientists-activists that never met in real life, started collecting Twitter posts and emailing research groups, universities, and funding agencies all over the world, asking for emergency funding. As the only Ukrainian within the group at the time, I took on the task of Ukrainian outreach and communication with international scholarly organizations. For the first month, many of us worked 24/7 and the team grew exponentially; there were 170 S4U volunteers in April 2022. We've created the website, structured the team, created a help communication line for displaced scientists. Within 2 weeks, help requests started flooding in. By 3 months, we were able to assist in employment and academic transfers of over 1000 people fleeing the war. Since #ScienceForUkaine is a highly flexible and a non-bureaucratic organization, we were also able to learn and adjust very fast. Due to this experience, we started getting invitations to share our experience and understanding of the situation with higher level stakeholder groups, including the International Science Council, Philipp Schwartz and Inspireurope Stakeholder Forum 2022, arranged regular communication line with the Ministry of Science and Education of Ukraine, and many more. The initiative grew and transformed into a well-known forum and a large search agent for many Ukrainian scientists, the role it still holds now. We have organized over 20 online webinar-trainings, helped organize 3 online conferences, our UK-team started remote mentorship scheme, national member-groups launched international non-residential fellowships, and many more.
How will this award propel you in your future endeavours?
One year after the 24th of February 2022, the Ukrainian topic was pushed to the second page in many news outlets. It is getting more and more difficult to find funds to support the #ScienceForUkaine initiative, yet the war is still very much going on. #ScienceForUkaine is still standing strong and able to provide support and organize various personal development or research visit initiatives. Thanks to the Social Impact Award from the MCAA, we will be able to help a few more researchers still based in Ukraine via online courses. The details will be worked out in the weeks to come, but the award will digitally "travel" from the room in Cordoba, where it was granted, and will reach a few scientists in Ukrainian bunkers. As weird as this sentence sounds, it puts a huge smile on my face.
What are your future goals?
That is very difficult to say, because we have to constantly adapt our activities to the everchanging situation in Ukraine. You never know what is in store for you, one day you are looking for temporary academic transfers, while a few months later you are trying to help with the energy generators. I just hope that we can stand the test of time and provide long-term support, even a small one, to scientists and students affected by the war.
What is your advice for MCAA?
I have no advice, just would like to thank the MCAA for their support and the way the organization has grown and transformed into an international advocate for equality and diversity in all areas of research.
Andrey Zhylka
MCAA Newsletter, Editorial Board
Postdoctoral researcher
The Netherlands Cancer Institute
zhylka.ai@gmail.com