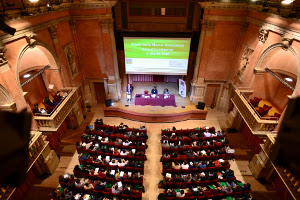 MCAA General Assembly


© Fot. Matt, Foto-modelos.es
The 2016 Marie Curie Alumni Association General Assembly attracted more than 200 participants from all over the world – a conclusive success for the young organisation. The MCAA was created in 2013 to promote career opportunities and cooperation between the current and former members of the prestigious Marie Sklodowska-Curie Actions, a set of scholarships awarded by the European Union for priority research projects.
The General Assembly in Venice, which I had the privilege to attend, boasted an impressive concentration of intelligent people in one room. PhD holders, professors, postdocs and entrepreneurs from all over the world came together to exchange ideas, look for collaborations and make friends for life. The value of such gatherings cannot be stated enough, since they create very powerful links between scientists from different backgrounds at a time when multicultural expertise and multidisciplinary approaches to challenges are becoming increasingly important.
Being a new member, I was both pleasantly overwhelmed by the egalitarian character of the MCAA and the warm people around me. Although some of them are very big players in industry and academia, there was no segregation by status, age or nation as is often the case at such big gatherings. Communication between all members was encouraged and the scientific endeavour of MCAA Members was equally celebrated by beginners and veterans of the field.
The MCAA's goals lie beyond the scope of a professional networking organisation. It concentrates on the promotion of career opportunities for its members by mutual help and exchange of ideas, independent of background or current status. The MCAA creates a professional community that supports and nurtures us in our pursuit of personal development and a better society. And having over 6 000 (at the time of writing – and growing) highly intelligent members is a good way to ensure it.
The MCAA has already become a great way to meet clever people and join exciting events throughout Europe. After seeing the potential of the MCAA and actively helping to shape the organisation at the General Assembly, I am firm in my belief that the MCAA will play a very big role in shaping European science in the near future.