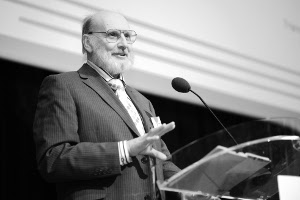 Mike Rogers


© Fot. Matt, Foto-modelos.es
Dear Marie Curie Alumni,
At the last AGM in Venice I had the honour to be elected as the first Honorary Member of the Association. It was the context of the meeting though that was really exciting. After many years in public service, many projects start but few survive. I had the opportunity to be involved with some of these, notably the peer review process of the R&D Framework programmes, The Science Shop movement, and then CORDIS; and at the start of FP7 the opportunity to start an internal awareness in the Commission of the benefits of an alumni movement with the active support of my hierarchy.
Through paradigm changing moments in geopolitics, like the Fall of the Berlin Wall, 9/11 and EU Enlargement, the Marie Curie fellowships concepts of excellence science and mobility to bring together the best researchers with the best faculty in the best locations have become de facto standards to which other programmes aspire.  The Commissions recognition of this and the benefits to Science as a whole has resulted in ever larger budgets; even at times of great fiscal prudence in the Member States, who also support this programme consistently. It is no accident that at least a dozen countries that are not EU member states pay for the privilege of participating fully.  The Commission has also sought to ensure that fellowships are well funded, are family and gender-friendly and promote interdisciplinary and current research. The absence of any scientific priorities other than those agreed on by experts in the relevant fields at the time of evaluation has also not happened by accident.
Now that the Alumni association has matured after 2 years of hard work by the initial board and executive; and the contractors; and has reached 10% of eligible members, it is time to look forward to build a platform where Membership is rewarding for all, and the goodwill and expertise gathered in mobility is shared and mentored into the new generation of alumni that every wave of the Actions generate, and provide the Commission and its Agency, and your political representatives,  a rich source of feedback and evidence of the systemic impact of such a diverse action; to ensure future proposals continue what is sound policy, good science and supports the knowledge based economy that will see a stable and peaceful continent well into the 21st Century.
If I can be a small part of that through this membership in my evening years, I will be happy to serve you. Thank you for the opportunity afforded me.
Mike W Rogers