1. May I ask you to introduce yourself briefly?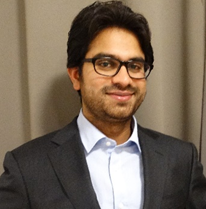 Bala Attili
I am Bala Attili, from India. I am a PhD researcher and started my MC fellowship in Hungary in the RADIOMI consortium before moving to the EU-funded FP7 Co-fund project INMiND at KU Leuven, Belgium. I am involved in developing small molecule diagnostic agents for neuroinflammation – the main cause of neurodegenerative disorders like Alzheimer's and Parkinson's disease.
2. Why did you apply for the Ordinary Board Member position within the MCAA?
I have been a member of the MCAA since 2013. I attended the first two General assemblies held in Brussels and Porto. Late in 2015 I took over the Chairmanship of BeNeLux chapter and got involved in active promotion of MCAA activities by organising workshops, hangouts, Researcher Nights, career info sessions. It's time to expand my services to the MCAA and become a Board Member, proactive in this organisation.
3. As an Ordinary Board Member within the MCAA, what do you plan to do first?
As an Ordinary Board Member, I would like to increase the visibility of the MCAA. Currently 10 % of global MC Fellows are registered with this association. I would like to increase this number with many innovative ideas that I have, in collaboration with the new Board. Being a PhD researcher, I know the significance of career guidance for the ESRs and ERs, so I would foresee organising workshops and career/job fairs.
4. What do you think the MCAA's priorities should be?
MCAA is a global association with professionally skilled people around the globe; it should serve as a platform for career building and networking, able to form inter- and intra-university and industrial collaborations. The prime priorities of the MCAA should be overall development and assistance to MC Fellows, which for sure the Board will work on.
5. How do you plan to organise your work within the MCAA and especially your collaboration with the other Members of the Board?
Planning and organising of work is crucial to the success for any association. In my view it should be more professional; I wish to delegate and discuss my work with other Board Members and to hear their opinion. As a BeNeLux Chapter chair, I always wish to collaborate with other Chapters and Working groups. Now, as a Board Member, I will be more effective if I team up with other Board Members. I believe in Team Work-More Work.
6. What would you say to the Alumni, especially to those who elected you? 
Let me say I am very delighted to have been elected an Ordinary Board Member and I would like to convey my sincere thanks to one and all who voted for me and enabled me to stand here. I will make sure that I will stand up for your hopes and work for the effective running of this association. I will make sure this association is "MC friendly". If you have an issue or a story of success, come to us and share your stories, we will encourage and promote you!